A bishop with farm-boy charm
THE new Bishop of Wagga Wagga will need "the Wisdom of Solomon" to tackle the challenges in the diocese, says his predecessor Archbishop Frank Carroll.
The issue of change in the church has divided the diocese, he said.
Fr Francis, as he prefers to be called, said it was dreadful that the post had been vacant for more than three and a half years and appointee Bishop Mark Edwards would have a "very tough job".
An unassuming man with a farm-boy charm, Fr Francis spoke to the Catholic Voice from his aged care home in Wagga Wagga where he has lived for two years.
The country boy considered retiring to his hometown of Ganmain but decided against it for two reasons; there is no doctor and "everybody would know my business before me. That's how small towns work."
Ordained at 23, Fr Francis was appointed Bishop of Wagga in 1967 at the age of 36. He served until 1983 when he took the helm at Canberra-Goulburn before retiring in 2006.
Fr Francis turns 90 on September 9 and while he has had a couple of stints in hospital he feels and looks well and keeps up with church affairs.
In a wide-ranging interview, the man who goes back further than any Bishop in Australia voiced his support for Pope Francis, his distress at the scourge of sexual abuse and his hopes for a Plenary Council that is open to change.
Bishop Mark Edwards will be installed as the 6th Bishop of Wagga Wagga on July 22. He turns 61 on June 14. Fr Francis plans to be at the installation Mass.
"I look forward to having a good talk with him (Bishop Mark), not that anyone would take any notice of me," Fr Francis chuckled.
Asked what advice he would offer, Fr Francis said: "He'll have to be an open listener. He probably knows the scene a bit anyway but he needs to understand the situation.
"He'll need the wisdom of Solomon I think. It'll be a very tough job. I'm glad he has seminary experience."
Fr Francis said he had heard talk that a number of priests had knocked back the position and suggested it may have been "because of the divided nature of the diocese."
"It certainly wouldn't have happened in my day," he added. "If a priest was asked to do something you automatically did it. But bishops are put under a microscope these days. The culture has changed a lot."
While it had been "dreadful" that locals had been without a bishop for almost four years, Fr Francis said he was pleased with Bishop Mark Edwards' appointment.
"I met him briefly once at an annual dinner for retired Bishops but we haven't chatted," he said.
"I'm glad he's coming in with enthusiasm and a cheerful attitude. I hear very good things. I think he'll be a good listener. I have listened to a few of his talks and like his enthusiasm."
Armed with an iPad and new mobile phone, Fr Francis has been "shopping around" for online Mass during the lockdown and said not having visitors had been hard.
Two siblings, Rosie and Barry, have died while four are in Ganmain; brothers Peter and Paul on the land and sisters Lelia and Kathleen in town. They are regular visitors along with a handful of friends from Canberra.
"Normally we have two Masses a week and I concelebrate from the pews but we haven't been able to go to Mass," Fr Francis explained.
The delay to the Plenary Council has been a setback, he said, adding he was disappointed with how it has been set up and that people would not be given a greater say.
"Each diocese should have had a synod beforehand to prepare people for the Council," Fr Francis said.
"Some people have pulled out altogether. Somebody told me only five parishes here in Wagga took it on which is pretty awful."
Heavily influenced by Vatican II, which he watched from the sidelines in Rome while studying canon law, Fr Francis spoke candidly about the fractures in the church around renewal.
"Some people don't want anything changed," he said. "I suppose that's the way they were brought up. So anybody who wants to change is a troublemaker.
"Yet I found when the Vatican II changes came in the vast majority were delighted with them. I always tried to set up a Vatican II church and that is still one of my visions today."
The eldest boy in a football-mad family and town, Fr Francis still keeps up with Aussie Rules. He supported Carlton when relative Tom Carroll played in the early 1960s (nicknamed "Turkey Tom" because his family farmed turkeys near Ganmain) and later switched to the Sydney Swans, reporting the team had slipped a bit over the last couple of years.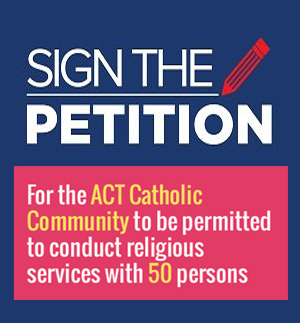 "You're brought up with sport in Ganmain," Fr Francis laughed. "You get a football for your first birthday.
"If it was a sport I used to play it and in the seminary it was a release. I enjoyed the seminary, mostly because of the companionship and sport. I was just 16 when I went there and 23 when I was ordained so we all had a lot of growing up to do."
Asked about his achievements, a modest Fr Francis points to his continuing efforts to implement a Vatican II church and his contribution to Catholic education. Broulee's Carroll College is named after him.
"Most schools are named after saints but this one is named after a sinner," he quipped.
As the lunch bells sounds, it is time for this gracious priest to reach for his walker and head to the dining room.
"A roast lamb is pretty hard to beat," he says with a twinkle in his eye.
Ever the country boy, he stops to add: "My brothers are still producing champion fat lambs."
Fr Francis on …
Cardinal Pell: "He was a lightning rod for a lot of things in the church. In a sense whether he was guilty or not guilty was not the question but the media made it the question. A lot of people still won't believe (the High Court decision) one way or the other. It's been an absolute tragedy for the church."
Sexual abuse by clergy: "We all made mistakes. We have handled it very badly. I hope the lessons have been learned. I remember even as a bishop I used to shudder as I heard their (clergy) comments. They weren't convinced it was our doing. We got too far away from the gospel attitude to it all."

Pope Francis: "I'm a great fan and applaud the freshness he has brought to the church. He reflects his background. He has a genuine interest in the poor and is a great gift to the church. I hope he can lay the foundations for his ilk to take on his way of doing things. If he gets the right people in the right places he's got a fighting chance."

The Vatican: "It was a great experience going to Rome but when you came out it was like leaving the bubble. There is a little bubble there that has little contact with the outside world. Pope Francis has confronted it. Many of them are good people, it's the culture that is the problem and that has to be changed as even good people are influenced by it."

Australian church: "In some ways we are travelling badly and people are leaving in droves. Yet I used to visit parishes and come home physically exhausted but uplifted by the goodness of people so it's a mixture. I'm hoping the Plenary Council will open up things a bit, give a breath of fresh air to the place."