Acolyte shares a slice of Italy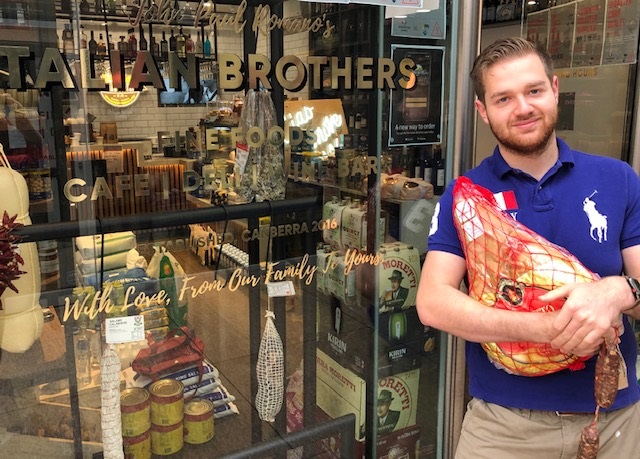 Having to shoo customers out the door when you have just opened a new café is not good for business.
But café owner John-Paul Romano is also a volunteer firefighter and so, just days after opening his Manuka fine foods store on December 31 last year, he had to shut the doors, get to the station and join the firefighting crew.
Once the fires had passed, the hailstorm arrived and flooded his café, and then the coronavirus struck.
"It's been one disaster after another," John-Paul said.
"But I like to stay optimistic. I think my upbringing and faith have helped with that.
"January wasn't the greatest month. I'd get a message to go to a fire so had to ask people if they could finish their coffees so I could lock up.
"Then I was doing night shifts so couldn't come in until midday, but that's the nature of firefighting. I thought it would pick up but unfortunately there's been more crises."
While only 20, the chef and St Christopher's Cathedral acolyte is a savvy businessman.
With the pandemic putting a stop to John-Paul serving Italian sandwiches and antipasto, he changed tack to offer bulk flour, pasta, sugar and rice.
"It's not what I envisioned but the business had to change," he said.
"The first two principles of business are diversify and supply and demand. I used my contacts overseas to stock up on pallets of hand sanitizer and soap and bulk bags of pasta and rice and flour."
The switch has paid off and John-Paul is confident he can ride the coronavirus storm.
The ex-St Edmund's student still hankers for the Italian deli he envisaged as a schoolboy. That is where the name of the shop, 'Italian Brothers', was born.
"I don't have any brothers," John-Paul laughed.
"I was in a Year 10 commerce class with a couple of Italian mates thinking about business concepts. We came up with the name 'Italian Brothers' and liked the sound of it. We looked it up and it was available."
While at St Edmund's John-Paul made fresh pasta at home to sell to restaurants.
After leaving school he would visit the Sydney fruit and vegetable markets twice a week to fill orders for Canberra restaurants.
He also spent eight months in Italy, living with his grandfather Domenico in his small village in Calabria.
"Every Italian village has a little shop that does everything," John-Paul explained. "It's the bar where people go to play cards and talk. It sells deli products and grocery items and serves coffee. There's no psychologist in the village; only the local priest and barman.
"I like to say that every few hours my shop changes. In the morning it's a place to get a coffee and a little Italian cake, the traditional Italian breakfast.
"At lunch you have a nice Italian sandwich with fresh bread and some salami, prosciutto and mozzarella.
"Then in the evening you come for an antipasto and glass of wine."
The dream to deliver an authentic Italian experience will be revived. And John-Paul has other ideas too.
Infused with a strong work ethic and energized by his family's humble peasant background, the young entrepreneur talks about opening a restaurant serving traditional food like his grandfather cooked.
"I don't want to stagnate," John-Paul said. "If things don't work out, you pick yourself up and start again. And you work hard. That's what my grandparents did."