ACT Catholic churches pushing to allow bigger services
The ACT government has apologised to a leader of Canberra's Catholic community for failing to respond to a letter he wrote requesting churches be allowed to hold larger services.
Father Tony Percy, the Vicar-General of the Archdiocese of Canberra and Goulburn, at first didn't receive an acknowledgment, let alone a detailed response, to a letter he sent to the government – until his situation was publicised by The Canberra Times.
Father Percy said soon afterwards he received a telephone call from an official who apologised to him.
He is now stepping up his campaign on behalf of the 160,000 registered Catholics in the ACT to get permission for bigger church services.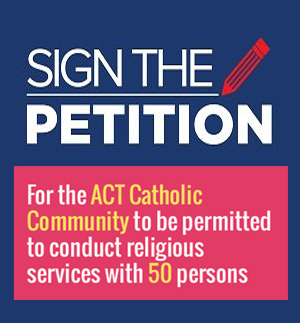 He's started an online petition to try to persuade the ACT government to allow up to 50 people to attend mass.
After Father Percy wrote to the ACT's Chief Health Officer Kerryn Colemann (the letter to which he said he initially did not receive a reply), Dr Coleman issued a public statement.
"Moving too quickly poses potential significant public health risks for our community," Dr Coleman said.
"We want Canberrans to be able to return to their normal lives, and their religious services, as much as possible while ensuring there are appropriate measures in place to keep everyone in our community safe and healthy."
---
First Published in the Canberra Times.