Baking treats to connect with grandkids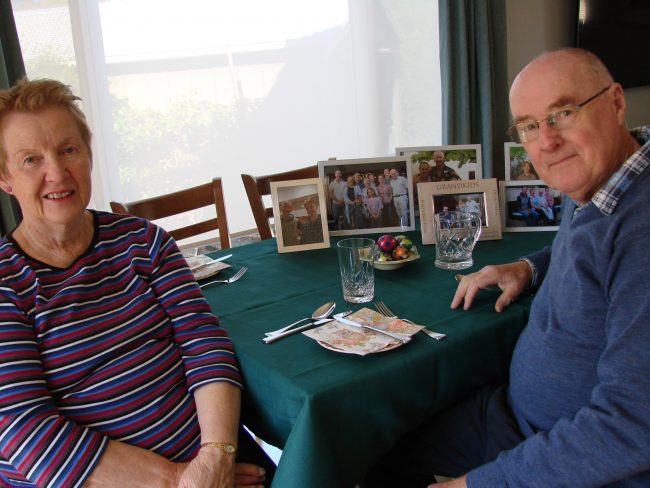 Retirees Kevin and Margaret Croker share how COVID-19 has seen them embrace technology and remember a long-lost grandfather.
AS a retired couple, we are very much aware of the impact of the Coronavirus and self-isolation, and that it is quite a different situation for families with children.
If it wasn't already a balancing act for working parents and children requiring care and schooling, it certainly is now.
The pandemic brings lovingly to mind for Margaret, thoughts of her grandfather, who she never knew. Margaret hasn't thought of him in many years. He died in 1919, aged 39 from the Spanish Flu. Margaret's grandmother was 35 at the time and raised three children on her own. One of them was Margaret's father. She lived to 102!
While coping well with isolation, we are missing not being able to be physical with our family, especially grandchildren. We stay in touch by phone and FaceTime and that is working well. Both our children and their spouses are keeping a close eye on us and we use Zoom to keep in touch with the Croker siblings.
It is fair to say that prior to COVID-19 we were somewhat reluctant to embrace modern communication technology but that has changed somewhat, much to our children's astonishment! We miss not being able to visit friends but keep in touch by phone and text.
Reflecting on his former role with the Clergy Retirement Foundation and care of archdiocesan priests, Kevin often reflects on how they are coping, especially those in aged care homes where, for most, visits are not allowed. Kevin knows the priests are struggling but equally their families and friends.
Kevin is never lost for something to do around the house and there isn't a weed to be seen in the garden. It is one of his busiest times mulching, hedge trimming, planting bulbs and nurturing his beloved Sweet Pea bed which is now approaching a plantation!
The odd painting jobs that have been staring us in the face for some time are also on his radar. With the weather cooling; it's time to get out the paintbrush. If only it was that easy, Kevin quips.
We try to walk each day and that has been a nice part of our "new" routine and to also gain a greater appreciation of the beautiful lakes, waterways and rural vista that make up so much of our bush capital.
Margaret can always lose herself in a book and her Book Club members are meeting regularly by Zoom. The grandchildren have also benefited as she has been baking treats which are collected at a social distance. There is never a batch of biscuits despatched that Kevin has not first sampled.
We have appreciated being able to 'attend' daily Mass via the Catholic Voice website, especially during the Easter Triduum. It is a time we can put aside the troubles of the world and pray in confidence that the Lord will protect us.
We have been touched by offers of assistance from neighbours, which we have found comforting.