Calvary Hospital Compulsory Acquisition; 'a monstrous attack on democracy'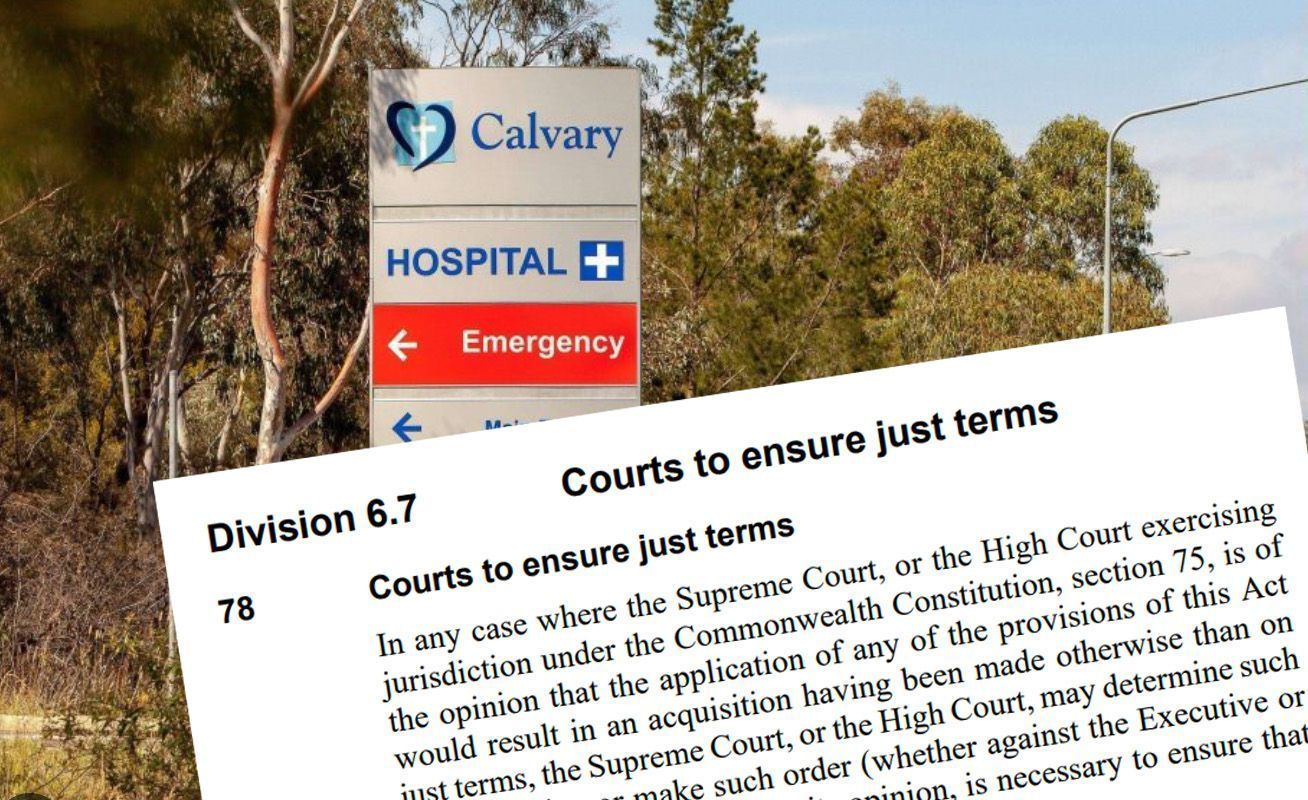 The planned compulsory acquisition of Calvary Public Hospital by the ACT Government is a monstrous attack on democracy, Fr Tony Percy said today as he called on Prime Minister Anthony Albanese to intervene.
The head of a new Archdiocese of Canberra-Goulburn action group, Fr Percy, launched the petition to 'Save Calvary Hospital' on 12 May. The petition is already approaching 18,000 signatures.
"Everyone needs to know there is so much at stake here," he said.
"What we've got is an ACT Government that is actually suspending its own Land Acquisition Act, whereby you do compulsory acquisitions on just terms. They are suspending it and saying, 'We're gonna take the land, we're gonna grab the property, we're gonna rip up the contract and then we will do just terms after that.'"
Fr Percy said it was time for Mr Albanese to step in and urge the government to pull the legislation and negotiate in good faith with Calvary.
"We have got to have the prime minister exert pressure," he said.
"His two great loves are the Rabbitohs and the Catholic Church. So, if the NSW Government was treating the Rabbitohs as the ACT government is treating the Catholic Church, he would be quick smart into the arena. He has got to get involved."
The former Vicar General said the compulsory acquisition would set a dangerous precedent for the future.
"If you have a government that can just come in and treat with total disrespect a medical institution that's been operating in place for 44 years and has 76 years of the lease to go – if they can just come in and do that, they can do it with anyone," he said.
"They can go to educational institutions, and they can rip them apart because they don't happen to agree with what they are teaching. This is a major attack on the freedom and dignity of the individual person and the individual institutions that arise because of it."
Fr Percy said the takeover did not make sense from a health or financial perspective.
"We certainly know it's not because they're going to develop a better medical system, because we know that TCH is on its knees. Everyone is coming out and saying what a disgrace TCH is, and the government's been in for 21 years and not done anything about it. So, it can't be because they are going to deliver better medical services," he noted.
"It can't be because it is going to be financially better because we know that Calvary built a $350 million hospital for 342 beds. And when the government is saying we are going to build a 500-bed hospital after we demolish Calvary for a billion dollars, we know that's going to be two billion. The government would be far better off commissioning Calvary to build their hospital at about a quarter of the price and save the rest of the money for public works across Canberra. So, we know it's not financial."
Fr Percy said he could not rule out the possibility of religious discrimination.
"People are talking about abortion, but people have to remember that abortion is not performed in the Canberra Hospital, the main hospital, except in exceptional circumstances, and neither is it performed in Calvary. So that's a furphy," he said.
"And yet, in the same report, the government put out on the 10th of April, they are saying the medical service offered at Calvary has too much of a religious overtone. Well, what does that mean? Do the people at St Vincent's in Sydney ever feel like they have been religiously coerced? I doubt it. They get the best medical care precisely because of the religious convictions of the people, because the church has been doing this for 2000 years. The ACT government are only new players to the whole show. The Mater in Brisbane could be accused of the same thing. What about the Mercy in Victoria being accused of being overly religious in their service delivery? It is a total nonsense, but I do suspect that it has a sort of hatred for religion and a hatred for people of faith behind it."
Meanwhile, the petition to save Calvary Hospital continues to gain pace.
"It is the biggest petition we have ever had," Fr Percy said.
"It is to save Calvary and to give a clear message to not only the ACT Government but to the Federal Government and all the other state governments that no government acts like this and gets away with it."