Canberran swaps crop tops for crops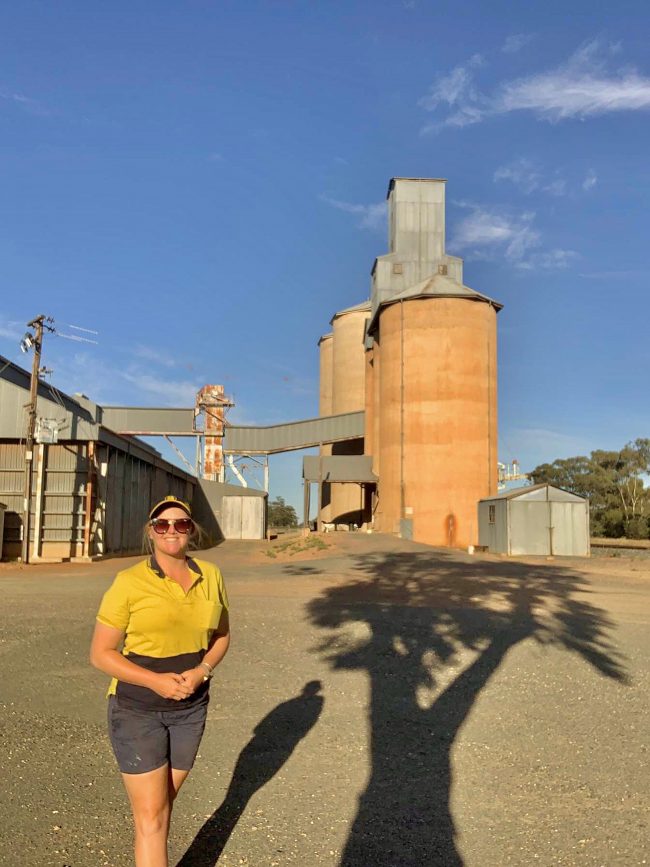 Moving out to the country for three months to take part in her first harvesting season is something Lucy Ferry will never forget.
Lucy was employed by Grain Corp as a harvest casual and was based at Lake Cargelligo.
"I was encouraged by my cousin who lives near Lake Cargelligo to apply, and I have always had an interest in agriculture and there is no better way to experience it than witnessing it first hand," Lucy said.
Lucy worked as a labourer and a weighbridge clerk ensuring the smooth operation of grain and barley onto the Grain Corp premises.
"As a labourer it was my job to run the shed which included making sure the grain elevator worked as well as unloading trucks and working in the outdoor storage areas," she explained.
"My role as a weighbridge clerk was to weigh trucks as they dropped off their load and again when they left, and to supply a docket to the farmer/grower/truck driver with information such as the quality of the grain, how many tonnes were delivered and the storage location."
Lucy said that they had to redirect some trucks in the area to other Grain Corp sites because their silos were at full capacity.
"The silos at Tullibigeal hold 40,000 tonnes of barley and they were full within the first five days that I was working there," she said.
Lucy said that the farmers in the area were thrilled with the 2020 harvesting season after years of drought.
"A lot of the farmers compared this harvest to 2016 which was a massive year for them, and they said next year should be a bigger season because the nutrients are back in the ground after the rain."
The hard work, long hours and dusty conditions were challenging, but Lucy said it was all worth it and she would do it again in a heartbeat.
"It was such an amazing experience and I still have so much more to learn," she said.
"The down to earth and genuine people I met along the way made it worthwhile."