Catholic Schools in bushfire ravaged areas of the Archdiocese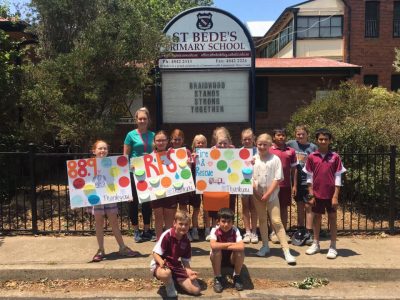 Term 4 has been a challenging time for our regional Catholic Schools in drought affected and bushfire ravaged areas of the Canberra and Goulburn Archdiocese.
The St Bede's Primary School community in Braidwood and our Catholic schools in the South Coast region were particularly affected. St Bede's Primary was forced to close for a number of days and St Bernard's Primary School, Batehaven, Carroll College, Broulee and St Mary's Primary School, Moruya ran on vastly reduced numbers with many staff and students unable to make it through to school because of road closures. Some were unable to leave their homes and others were forced to seek refuge with family, friends, or at the temporary evacuation centres.
During these difficult times our prayers were shared across the Archdiocese and many schools were inspired to reach out to those in our fire ravaged Catholic communities in their time of need. Efforts by our schools highlighted the imaginations of our students as they reached out to help those who most need it.
Year 6 students from Good Shepherd Primary School, Amaroo approached Principal David Austin with the idea of a uniform free day to raise funds to support the firefighters as they continue the battle to keep us safe. Good Shepherd raised $1081 which was matched by the school's parent council providing the Red Cross with a total of $2062. Uniform free days across our Catholic schools, including St Thomas More's Primary School Campbell and St Mathew's Primary School, Page, were also successful fundraisers for this important cause.
Students from St Patrick's Parish School Cooma and Lumen Christi College, Pambula Beach, worked hard this year to help their communities by successfully completing their NSW RFS cadetships.
The St Mary's Primary, Moruya school community took part in the #BusttheDust, Rural Aid Australia fundraiser, performing a rain dance, hoping it would serve to help lighten the sombre mood of their community, help put out the fires and hopefully loosen the grip of the drought across the Archdiocese in regional NSW. They prepared a video inviting other Catholic schools to join them. The challenge has been taken up across the entire Archdiocese by several of our schools including St Anne's Central School, Temora; St Mary's Primary School, Young; St Joseph's Primary School, Bombala, St Mary's Memorial School, West Wyalong; St Joseph's Primary School Grenfell; St Mary's Primary School Batlow, through to Canberra where Holy Spirit Primary School Nicholls; Sts Peter and Paul Primary School Garran and St Clare's College joined in on the fun, dancing for rain and raising funds. These stories are all examples of the efforts of our schools to help their communities battling bushfires and drought this summer.
These challenging times brought out the spirit of community and solidarity so prevalent in our Catholic schools. United in prayer, Catholic Education across the Archdiocese demonstrated the hope and faith that defines us. The bushfire danger and devastation of the drought in our Archdiocese continues, please continue to pray for all Australians facing the threat of bushfires and struggling with the drought this season.