Celebration of faiths at Archbishop's iftar dinner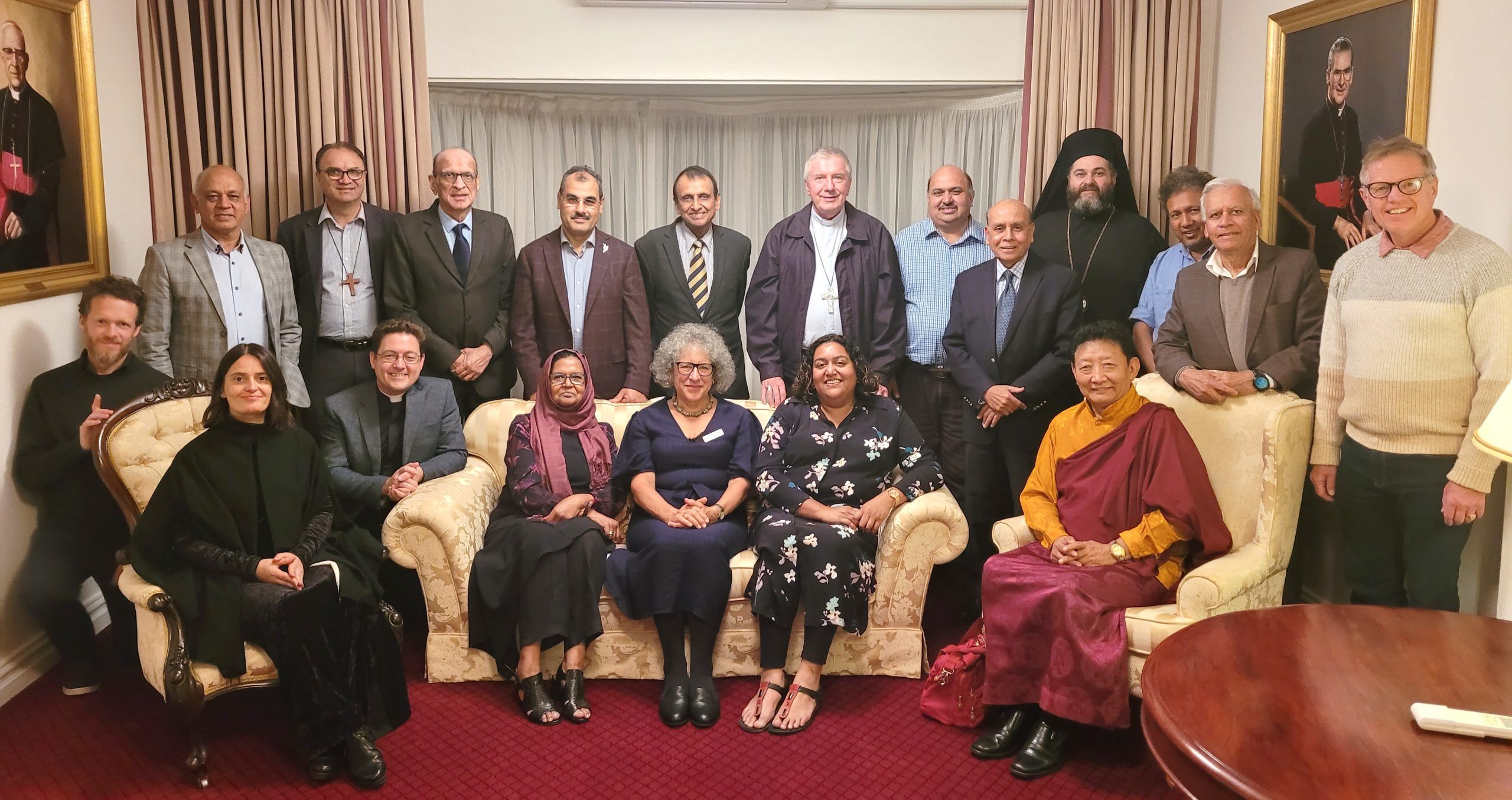 There are few better ways of breaking down barriers and holding out the hand of friendship than over a meal.
In a joint initiative with Canberra's Muslim community, Archbishop Christopher Prowse hosted an iftar dinner at the Archbishop's House on 30 March.
iftar is the evening meal at which the daytime fast is broken during the Holy Month of Ramadan.
Along with several members of the local Muslim community, Archbishop Prowse was joined at the dinner by leaders and representatives from Canberra's Jewish, Greek Orthodox, Anglican, Tibetan Buddhist and other interfaith, multicultural, and community organisations.
It was the first time the Archbishop had hosted such an event. "It's a gesture of friendliness, kindness and an expression on a local level for peacemaking amongst men and women of different world religions," he told the Catholic Voice.
"I had always liked the expression, 'Think globally, act locally'. This is a local, humble act of gathering around a table and offering each other friendship, of sharing a meal."
Mr Fethullah Erdogan, the Executive Director of the interfaith Bluestar Institute, said the Archbishop's invitation for an iftar dinner was very meaningful for Muslims.
"It's not common for non-Muslims to invite Muslims for an iftar meal," he said. "For the Archbishop to do that was unique and very inspirational. We are grateful to the Archbishop."
During the dinner, Mr Mohammad Ali thanked his "wonderful friend", the Archbishop, for the invitation to the meal, which was a "wonderful idea".
He said Canberra was a place where "we lived in harmony and where we should try and increase this harmony.
He hoped to reciprocate the Archbishop's invitation very soon so that the tradition continued "where we will be sisters and brothers in peace and harmony."
---
Manar Ahmad, Canberra's Muslim community
"I'm grateful to be invited by the Archbishop with some prominent people from the Muslim community and other members of the [interfaith] communities so that we can understand each other better. These sorts of opportunities are beneficial, both for our well-being and for the well-being of the community. "
---
Dr Dean Sahu Khan, Interfaith Roundtable
"The Archbishop himself is a friend of mine. So it's a good gesture for the Archbishop to invite us here to break our fast in the Holy Month of Ramadan. So this is what it's all about. You know, it's getting people together, people of different faiths.
Dr Dean Sahu Khan added that faith traditions were united by the concept of fasting, which was common to many religions.
---
Bishop Bartholomew of Charioupolis, Greek Orthodox community
"I thank Archbishop Prowse for this beautiful initiative for all of us to come together at a challenging time worldwide where there's conflict. We need to always think about unity and peace. And this is one step towards this at a local level. So thank you for the invitation. I'm looking forward to the next one next year."
---
Lama Choedak Rinpoche, Spiritual Director Kaya Losal Choe Dzong, Tibetan Buddhist Society of Canberra
"We, faith leaders, must meet to get to know and support each other. Those with beliefs should all help work together to do good in the world. So it's good to come back again and meet more friends."
---
Karen Tatz, President ACT Jewish community
"In the Jewish community, it's essential to mix with other faiths and to learn about those faiths and for them to learn about our faith. I recently went to a talk by the CEO of the Anti-Defamation League. He made a point that in combating racism and anti-Semitism, we have to combat all forms of racism and discrimination. And I think part of that is knowing about each other, not fearing differences, and not being xenophobic. At a smaller level, it's lovely to meet other people with different interests and discuss the similarities and differences within the various faiths."