Child-free in The Big Apple
In the dark, early hours of January 2, I made my escape from the fire-harassed south coast for Sydney International Airport.
I had never travelled alone before and was embarking on a study tour to the US. Road blockages prevented me from going home before leaving the country so my oldest son drove my suitcase, bulging with borrowed snow boots and winter woollies, up the Hume Highway.
We met in Moss Vale and he drove me to Sydney while my husband and daughter took my beach gear home to the farm at Murrumbateman.
The lure of a week-long course in Pennsylvania on marriage, family and gender seemed too good an opportunity to pass up, especially during the fallow month of January when my husband could keep an eye on our teenage daughter and four young adult children.
My Great American Adventure began to take shape. Friends offered their home outside DC as a base for my travels and I discovered that return airfares were cheaper if I extended my stay to take in the January 24 'March for Life' in Washington.
In the days leading to my departure, I was quite stressed. Apart from the fires and packing and passports I experienced an existential dread about being separated by so much time and distance from my family.
My husband travels often and reassured me that he too experiences an inexplicable sense of dread before he goes away.
In 30 years of marriage I had never known that!
Then there was the anxiety about being a burden on my US hosts, which I mitigated by planning an eight-day trip to New York, where I knew no one.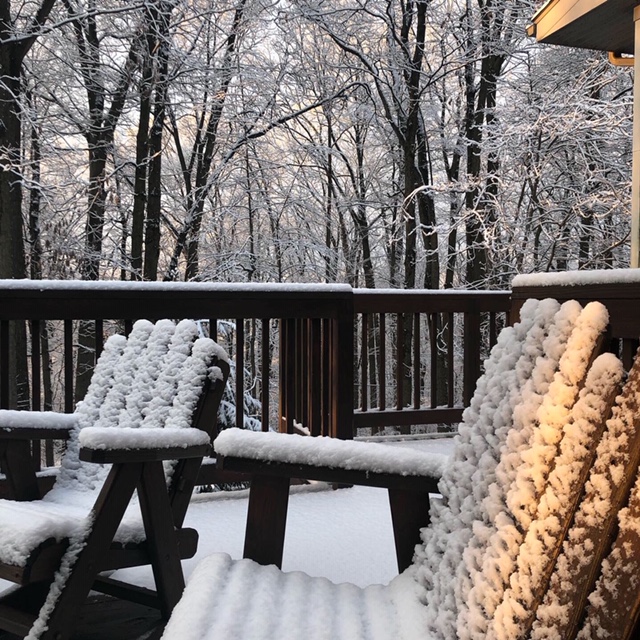 The course venue in an Amish area of Pennsylvania was delightful. I relished diving into theological issues for six hours a day without having to think about shopping, cooking or cleaning.
Seeing the season's first snowfall was magical, as was discovering, during a walk through the woods on the fresh snow, that I was being silently observed by a family of deer.
In Washington, I connected with the Given Institute which runs Leadership Forums for young Catholic women. They are encouraged to identify their gifts and passions and a mentoring program helps them design and implement an action plan to contribute to the church and society. So far, women mentored have contributed in areas as diverse as sports, the arts, wellbeing and social justice.
In New York I spent time with the Sisters of Life. Founded less than 30 years ago, they support pregnant women in difficulty as well as women hurt through abortion. It was quite an experience knocking on the door of an inconspicuous brick building in downtown New York to be greeted by a nun in full habit and seeing a line-up of prams in the corridor.
A sightseeing highlight was the National Shrine to the Immaculate Conception in Washington. Only 100 years old, its restrained but majestic proportions and vivid artworks, in my opinion, rival the beauty of any church in Rome.
And then there was New York, where my Catholic guesthouse was the perfect fit for someone traveling on their own to The Big Apple: clean, simple, safe and inexpensive with friendly people on the desk 24/7 and Mass each morning.
It was right in the middle of Manhattan so I took myself to three live shows: The Jersey Boys, Hamilton and a solo play performed by Laura Linney.
What I enjoyed most was exploring the city on foot. It was quite intoxicating, moving at my own pace and being totally present to the experience.
While I definitely had a few moments of teary homesickness, it was a totally different and refreshing headspace to be in.
Absence makes the heart grow fonder and I returned home with a heart full of gratitude for my own beautiful family and familiar surroundings.
I was even excited to get stuck into cleaning the fridge, which no one had thought to attend to in my absence.
• Catholic guesthouse in New York www.leohousenyc.com