Commencing Merici's 60th anniversary celebrations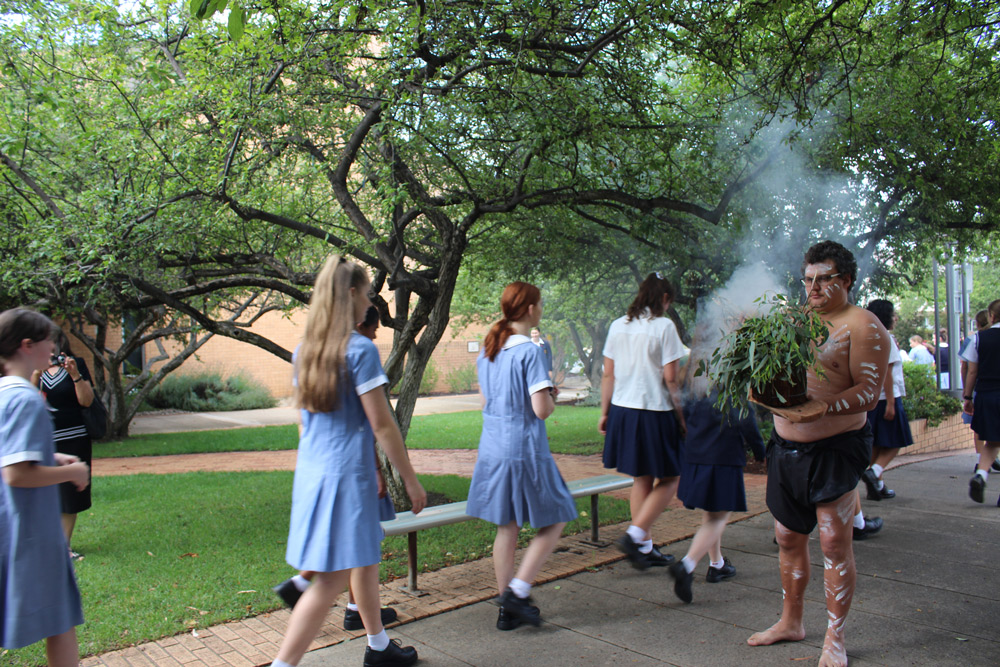 On Tuesday, February 5, 2019 Merici College current and past students, parents and special visitors were welcomed by staff to the Opening School Assembly in the year of the school's 60th Anniversary.
The assembly commenced as the community processed through a smoking ceremony officiated by Mr Joel Bulger of the Ngunnawal people, who also led us in the Welcome to Country.
Madisson Doyle, Spirituality Captain for 2019 opened the assembly, speaking about our theme for the year of Fidelitas, which translated from Latin means faithfulness. "This year we will reflect on our past, present and future journey from Canberra Catholic Girls' High School in 1959 to Merici College in 2019 and beyond as we celebrate our 60th Anniversary.
The 2019 College theme draws on the school motto of Fidelitas which encourages students and the school family to be faithful to the school values, to God and our country. Faithfulness can be defined in a variety of ways. We look to people of the Bible such as Moses and St Paul, and ultimately Jesus, as leaders of faithfulness. St Angela Merici continues to be the inspiring model on which we base ourselves; an amazing individual who dedicated her life to the education of women of all classes of society. "
Merici College School Leaders Malia Harrison (College Captain) and Olivia Miles (College Vice Captain) inspired the students with their interpretation of Fidelitas. "Our theme for this year, Fidelitas, ties in beautifully with our anniversary. During this special year Merici College has a goal to ensure that we are learning more than just academic lessons.
Together as a College of strong women, we want you to strive for greatness, empower our fellow peers and spread positivity through your love for others and yourselves. This year, we challenge you to show loyalty and faith throughout your lives by creating and upholding positive and strong relationships within the community.
Our Mother Mary and our College's Saint Angela Merici are great examples of women who were both thoughtful and resilient leaders. Through their loyalty, faith and love, they empowered women everywhere to live their best lives and to continue to spread that positivity. By following in the footsteps of these women, our vision for you is to build one another up in an environment of kindness, empathy and respect."
The Captains reaffirmed their commitment to the life of Merici College and the subject of mental health. "Through the programs run at our school, such as the Sources Of Strength team, the school counsellors and other learning opportunities such as co -curricular activities, we wish to develop strong leaders who lift others up rather than tearing them down. We are stronger together than apart. By making sure we lift each other up, together as a family, we can continue to build on the positive environment Merici's past and present students, teachers and parents have created."

As a reminder to strive to be like Mary and Angela Merici, the symbol for the College this year is the Fleur de Lys. Fleur-de-lys is a French word where fleur means flower and lys means lily. This is a royal symbol and Mary, the mother of Jesus, is often shown holding lilies. The fleur de lys represents Mary and her purity. The first patron saint of the College was Our Lady of Lourdes, Mary. Therefore, the fleur-de-lys symbol is included to remind us of Mary and our first patron saint.
The leaders concluded their address by challenging all the students to find resilience and courage in the spirit of Saint Angela Merici who saw women as significant individuals and agents of change, to be the best versions of themselves while further developing an environment within Merici that truly feels like a family.
Mrs Wholley, Principal, presented her Opening Address to the community by asking "What's in a name?" Mrs Wholley went on to explain that a name establishes relationship. A name confers blessing – the blessing of belonging. "A name brings with it some status – you are no longer a "nobody". Our names are important to us. It makes a student, a parent, a gardener, an admin officer, a teacher, a cleaner, a technician, a housemother, a kitchen hand, a cook — know they are valued.
Since the beginning, Genesis tells us, God has been speaking. God has spoken generously, words whispered into both tiny and giant creatures, words echoing among the galaxies, words calling life into being.God's gift to the world is that he created each of us, God created you as a gift to the world. Listen to your name. You have been called by God. You are precious!"
In celebration of Merici College's 60th Anniversary this year, Mrs Wholley presented a historical timeline to the community and spoke about the different names the College has had. "The names discussed were St Patricks, Our Lady of Lourdes, Trinity, and to stop any controversy decided to go with Canberra Catholic Girls High School (there was even disagreement over was it a High School or a College).
It was actually not a popular choice and got lots of criticism from the local church papers at the time for being boring and not having any connection to a Saint. But this was difficult given that 6 different groups of nuns, who had a connection with a different saint or vision or charism – it was not believed that they would be able to agree and they didn't want to put one order of nuns as being more important than another. But the names continued to change and evolve with time.
When Catholic Girls High School Griffith (now St Clare's) opened it was necessary to drop the Canberra and add Braddon, then boys came along for a few years and so they had to remove Girls and then when they left the Girls was added back in. Finally in 1983, celebrating the Jubilee Year and the first lay (non-religious principal) Merici College was named.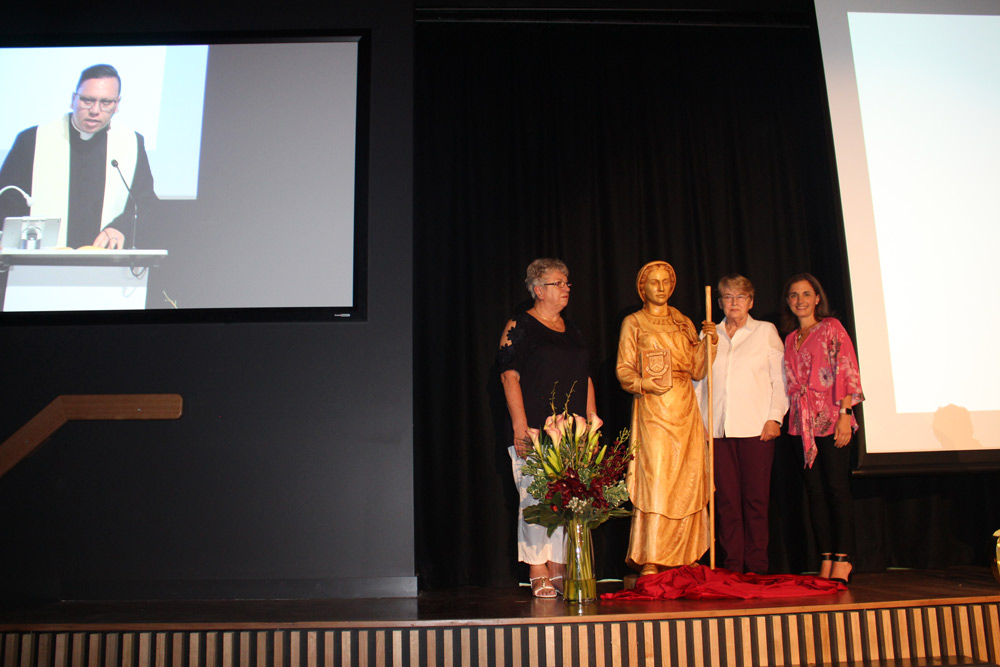 Mrs Wholley spoke about Merici's Patron Saint, St Angela Merici "Today we honour and remember St Angela Merici and unveil the statue as a tribute to a courageous woman who influenced the religious society of her time and educated young women. Her legacy goes on today, she is still teaching us. She is a role model and example of how one individual, with courage and conviction, can inspire women and men to dedicate their lives in service of God and others in our community."
The community welcomed Ms Wanda Lawler and Ms Helen Campbell, both from the Class of 1962, who presented a reflection on their time here at CCGHS and unveiled the statue. The statue was commissioned early last year and was completed by Engelbert and Isabella Piccolruaz. It is a similar statue to the one found at St Ursula's College, Kingsgrove. His traditional wood carving and sculptures are executed on quality timber and left natural with a light coat of stain. The statue depicts St Angela Merici moving forward boldly and with purpose.
She is holding a staff (or walking stick), this is signify her pilgrimage to the Holy Land. When they had gotten as far as Crete, she was struck with blindness. Her friends wanted her to return home, but she insisted on going through with the pilgrimage, and visited the sacred shrines with as much devotion and enthusiasm as if she had her sight. On the way back, while praying before a crucifix, her sight was restored at the same place where it had been lost.
In her other hand she is holding a book – this symbolises her interest and dedication to the education of young women, particularly in the area of religious instruction. On this book is the Merici College crest. linking us forever to St Angela.
Mrs Wholley expressed her appreciation to the many supporters who have donated to the Art Works fund with all contributions having made a lasting difference and be a living memory to future students who embrace the vision and values of Merici College.
Mrs Wholley concluded the assembly by wishing all students and staff all the best for 2019. "I look forward to celebrating this anniversary year with you all. Remember to embrace every opportunity. Be a faithful friend, a faithful daughter, and a faithful student to our community. "
Submitted by Merici College.