Discovering a lifelong love of learning
Since 2015, the Augustine Academy has educated about 100 young people from home schooling families as well as those who have opted out of the mainstream school system. With its mix of theology, philosophy and literature combined with drama, logic and other pursuits such as carpentry and breeding farm animals, the small Catholic learning institute promises an authentic and complete education. Here, we learn more about the Augustine Academy from one of its founders, a student and a parent. From 2020, the Academy will move to Tumut in the Archdiocese.
Augustine Academy exists to offer young people the op­portunity to grow in their faith, form meaningful friendships, develop foundational life skills and discover a lifelong love for learning.
In 2015, I was inspired to start the Academy in response to the growing need for alternative modes of education for young people, in particular home schoolers who required qualifica­tions for tertiary studies, or high school students who were not flourishing in the standard school system.
The pedagogy of Augustine was largely influenced by my own experience of home schooling, where I learnt that education was not just something to be gotten over and done with, but rather a thrilling and life-long pursuit of the truth.
I made a complaint to God that I did not know any schools like this where I could teach, and I received the simple and indubitable response that it was my calling to start such a school.
After graduating from Acts2 College of Mission and Evangelization in Perth, I went on to study a liberal arts degree at Campion College in Sydney. I continued my studies in the humanities at Our Lady Seat of Wisdom in Canada.
All of these experiences of small Catholic learning institutes were incredibly positive and helped in forming Augustine Academy's philosophy of learn­ing. The integrated approach to studying the humanities was one that I recognised as particularly advantageous in offering an au­thentic education that broadened one's mind and critical thinking skills.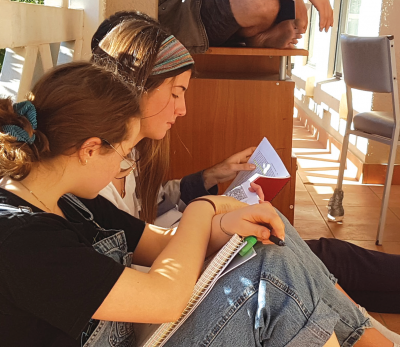 In recognising the degree to which my undergraduate stud­ies had benefited my personal development, I felt a great zeal to go into education. With this view in mind I completed a Masters in English Literature at the University of Sydney and began tutoring there. The experi­ence was a positive one, but the limitations of the curriculum did not allow me the freedom to pursue the vision I had for a holistic education.
I felt strongly that it was my vocation to teach students a way that was both rigorous and balanced. Young people have a greater capacity for engaging in deep philosophical studies than they are usually given credit for in standard schooling.
It was my opinion that there was also a material benefit in allowing students the opportunity to engage in lived experiences; that an authentically holistic education should not just integrate the academic subjects, but outdoor activities also which engage the whole person. Such activities as bush walks, canoe­ing, horse riding, working in the garden, carpentry, songs around the fire, drama, breeding farm animals, milking a cow etc, all contribute, in a substantive way, to a person's experiential knowledge of the world, and consequently to a more complete education.
I made a complaint to God that I did not know any schools like this where I could teach, and I received the simple and indubitable response that it was my calling to start such a school.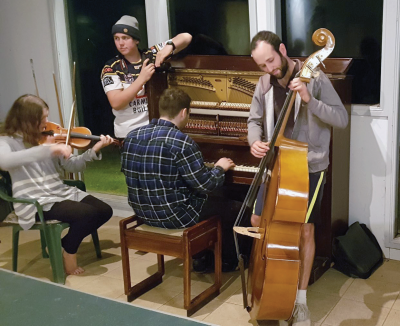 In the past four years, the unique ethos of the school has continued to attract an ever-increasing number of students from all over Australia, as well as lecturers from overseas.
A typical day at Augustine Academy will be a balance of lectures, tutorials, an outdoor activity (such as making mud bricks for the chapel), a sport­ing game, in the evening once a week students have a talent night where they might play an instrument, dance, recite a poem of their own or act out a skit, and each evening concludes with students and staff coming to together to pray.
In 2020 Augustine Academy will move to a beautiful new campus just out of Tumut. Students can study theology, philosophy, history, literature, grammar, logic, rhetoric, debat­ing, drama and agriculture. Upon graduating they receive a nation­ally accredited Certificate IV in Liberal Arts which provides a pathway to university. Each of the four terms are five weeks in length, and students board on campus during that time.
Ben McCabe is a co-founder of the Academy and lectures in literature and theology.
Further information maybe found at augustineacademy.com.au Or by contacting Ben McCabe:
Mobile: 0450 729 077
Email: benmccabe@augustine­academy.com.au
---
Related Articles
An education in Aristotle, animal husbandry and 5.30am starts