Matrimonium Summer School (Registrations closing December 16)
21 January 2019

-

25 January 2019
The registrations for the inaugural Matrimonium Summer School are closing on December 16.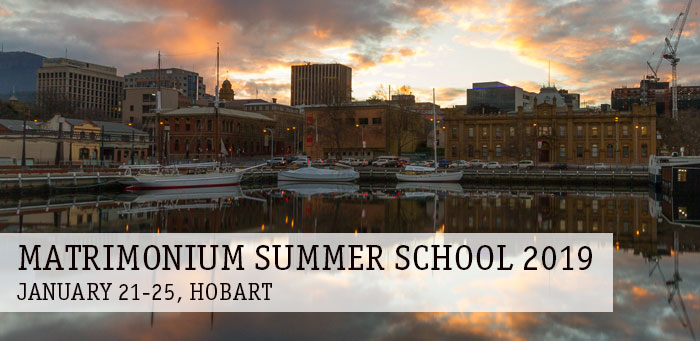 At a time when the secular understanding of marriage is rapidly diverging from the Church's vision for marriage and the family, it is important for young Catholics to get some solid formation in this vision. Recent legislative initiatives in Federal Parliament, with respect to religious freedom, and in State and Territory Parliaments, in terms of gender reassignment and deleting sex off birth certificates (Tasmania and the Northern Territory), demonstrate how fast things are changing.
To address this need, the Archdiocese of Hobart's Office of Life, Marriage & Family is organising the inaugural Matrimonium Summer School to be held in Hobart from 21-25 January, 2019.
The Matrimonium Summer School will offer a series of lectures from a well-qualified faculty, group discussions, field trips, prayer time and social occasions to create a unique experience of the beauty, goodness and truth of the Church's teaching on marriage and the family. Archbishop Julian Porteous will take an active part in the Summer School to contribute his wisdom and passion for forming young people in the Church's vision for marriage and the family. Other speakers include: Professor Tracey Rowland, Dr Kevin Donnelly, Peter Holmes and Anna Krohn.
Please find attached a copy of a promotional brochure for the Matrimonium Summer School. More details on the Summer School including the full program of speakers and the registration process can be viewed on the website: www.hobart.catholic.org.au/content/matrimonium-summer-school-2019.