Father Brian Maher: "a guardian of memory"
'May he rest in Peace, May he rise in Glory'
Brian Thomas Maher was born in Corowa on the 12th September 1936.
His parents being John Edward Maher and Pauline Clare Keefe. He was baptised in Balldale, NSW, 4th October 1936.
Brian's mother died when he was just four years of age. Brian had a brother Kevin, who predeceased him.
He attended St. Lawrence's, Galong, for primary schooling and then St. Gregory's, Campbelltown, for secondary schooling.
He completed a Bachelor of Science, embarking on the journey of tertiary study in 1954, majoring in Agriculture, from the University of Sydney, with honours.
In 1972 he completed a Diploma of Religious Education (Corpus Christi College, London) and then backed this up with a Primary Teachers Certificate in 1970 (Signadou College).
Brian entered St. Columba's College, Springwood, in 1959, and then St. Patrick's College, Manly, from 1963. He was ordained as priest by Archbishop Eris O'Brien on the 16th July 1966.
The appointments followed freely:
Cootamundra 1966-1968
Braddon 1968
Cooma 1971
Cathedral 1974
Queanbeyan 1976
Goulburn 1977
Braddon 1978-1986
Bungendore 1986-1992
Aranda 1992-2007
Father Brian retired 2007.
In addition to his parochial appointments, Father Brian was hospital chaplain for the Canberra Hospital (1968-69), Director of Confraternity of Christian Doctrine (1970-1977), Diocesan Director of Pontifical Mission Societies (1973-1988), and Diocesan Chaplain Young Christian Students (1973-1976).
Besides a faithful and fruitful ministry as a Diocesan Priest, Brian became renowned for his significant contributions in documenting the history of the Archdiocese.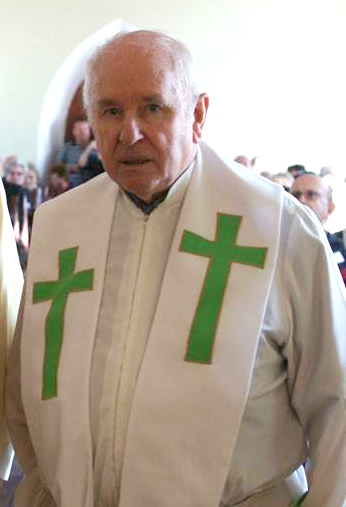 Paraphrasing Denis Connor, Archdiocesan Archivist, 'his research collection of published books, periodicals, pamphlets, press cuttings, copied articles, photographs and original and copied manuscript material, all supporting the writing of many books (including parish histories), articles and papers relating to the Archdiocese.
His history of the Archdiocese, Planting the Celtic Cross, published in 1997, has, is and will be widely acclaimed.
Father Brian was awarded the Medal of the Order of Australia (OAM) in June 2009, with the citation reading:
For service to the Canberra Region through historical organisations, and the Catholic Church of Australia.
In 2011 he was appointed by Archbishop Mark Coleridge as Archdiocesan Historian indefinitely.
In his pithy letter of appointment, the Archbishop wrote:
The appointment pays tribute to the splendid contribution you have made to the Archdiocese and seeks to encourage you to pursue your historical work.
I have long believed that to lose touch with the past is to lose touch with the future.
You have been a guardian of memory and, as such, you have pointed to the future.
I thank you for what you have contributed and I look forward to seeing the fruits of your work in years to come.
May God who never forgets us, bless you and your work in every way.
'May he now enter in to the joy of his Lord' (Matthew 25).
Amen.