Five minutes with Fr Namora
The Catholic Voice spent five minutes with Fr Namora Anderson, Assistant Priest at Immaculate Conception Parish, Tumut to ask him about his thoughts about discerning the priesthood.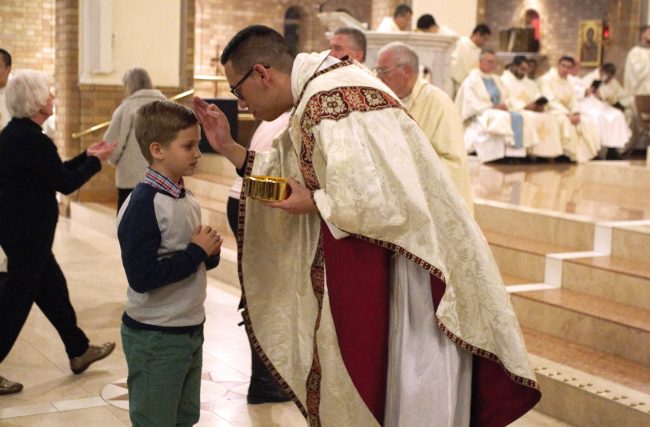 How did Christ call you?
Christ's call is always something profoundly intimate and personal. He connects with us through both our woundedness and our giftedness. For me, this was through inspiring Catholics, namely my parents, and secondly, the love for God's people lived in and through priests. Through these people, I saw and felt called to the ministry of the salvation of souls.
What was the most challenging thing about discerning?
Initially, I think the greatest difficulty is overthinking. The Church teaches that people have the 'sensus fidelium' – a sense of the faith. And I think we can apply this to following the Spirit. Rightfully so, we want to be dutiful in interrogating our feeling, but it is too easy to be caught up in over analysing and over intellectualising God's movements within us. What is difficult is a wavering of resolve/patience to allow God's plan to take effect, i.e., ordination.
How did you know you wanted/you we're being called to discern the priesthood?
When I first felt a calling, I tried to ignore it, but everything I was involved in and pursuing seemed lacking. At that time, I realised that although I had never previously considered the priesthood, it wasn't in opposition to all the good that I wanted to do for God's Church. Rather the culmination of all my desires, just in a manner that completely surprised me.
What was your greatest fear?
Apathy.
What is your greatest consolation?
Cliché, but the sacraments. Most notably, the Holy Sacrifice and Confession. The mass because The Christ event is made manifest – the incarnation, death (sacrifice), resurrection – is quite literally represented in our hands and then in our hearts. Secondly, confession, both as confessor and penitent. Confessor as the agent of making God's love and mercy relevant and present. Penitent, in that through the humility of our woundedness, we are then redeemed and realise our greatness in God.
---
The 2021 Annual Good Shepherd Sunday Appeal will be conducted in all parishes of the Archdiocese on the weekend of the 24th & 25th April.
The generosity of our Catholic community helps each year as we shoulder the joyful but substantial, financial burden of educating our seminarians.
To make a donation please click here