Floods couldn't stop Fr Augustine Vallooran's visit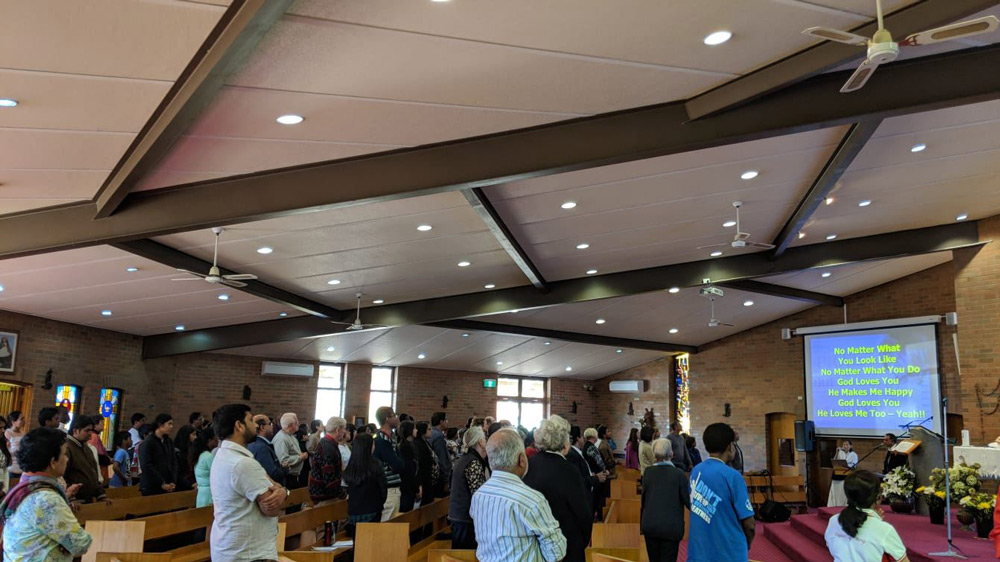 Not even floods could prevent Fr Augustine Vallooran from honouring his commitment to Australia.
Fr Vallooran traveled all the way from flood ravaged Kerala to keep a prior commitment to preach the Good News of God's love and mercy to the people of Canberra.
And the response to his visit was joyous. St Brigid's Catholic Church in Dickson resounded to the joyful songs of praise and worship on October 1, as more than 150 people gathered (on a long weekend) to listen to the Word of God preached by him.
Those gathered were touched by a mighty anointing of the Holy Spirit. It was truly a blessed day of rejoicing and thanksgiving.
Fr Augustine was ably assisted by Teresa and Glen La'Rive who lead the music ministry, and gave powerful testimonies of their own encounters with the Lord.
The following day, Fr Augustine and his team met Archbishop Christopher Prowse to thank him for his support for the ministry of Divine Retreat Centre (DRC), Muringoor, Kerala.
Archbishop Christopher has visited DRC on a number of occasions, and have spoken highly of this centre of spiritual renewal.
Recently, DRC has opened a new branch at Somersby, NSW. Its retreat programs can be viewed at this website:
Fr Augustine Vallooran, vc, is an internationally renowned preacher and priest. He guides us to experience the power of God's word in our lives and he is the Director of Divine Retreat Centre, DRC in Kerala, which is the largest Catholic retreat centre in the world.
Since 1990, over 10 million pilgrims from all over the world have attended retreats there. Weekly retreats in 7 languages are held non-stop every week of the year.
Those interested in information about future DRC retreats may contact:
Prakash: 0406381446
Tom: 0434689957
This article was contributed.