Fr Andrew celebrates 10 years in the priesthood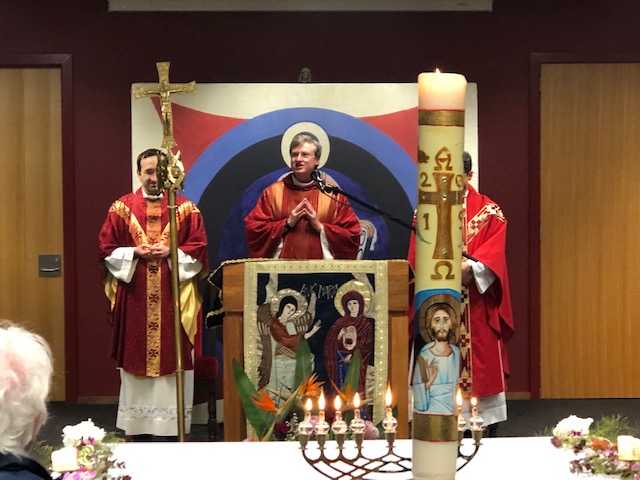 Fr Andrew Lotton was joined on Sunday June 9 at a celebration of 10 years in the priesthood in concelebration with Fr Paul Nulley PP at Joseph's Parish and Sebastiano Sanna of the Apostolic Nunciature – in celebration with the Neo-Catechumenal Way Community of the Parish.
Fr Andrew, who is the acting Administrator of St Christopher's Cathedral Parish, is a "local boy," born and raised in Canberra.
He recalled his long journey to the priesthood from practical atheism, Anglicanism and a significant experience with Catholic Charismatic Renewal.
The Lord finally brought him a catechesis conducted by the Neo-catechumenal Way in Canberra, including its itinerary of faith formation in a small community.
Jobs with the British and South African High Commissions were punctuated with periods in and out of the seminary leading to ordination for the Diocese of Perth in June 2009.
"I love preaching the Good News, being in the Evangelisation gives me great happiness, not knowing where the Lord will take me," Fr Andrew said.
"What do you want me to say today Lord, what have you prepared for me? I was once a lonely man who could not even speak. Look at what the Lord has done for me, because he loves me! This is what he wants to do for you as well I'm sure. My life has been an adventure and I look forward to seeing what God has planned for me"
Fr Andrew's joy and evident gift for preaching are strong testimony to the huge vocational energy generated by the new movements and ecclesial realities being generated locally and across the Church… new seminaries, new orders and a new style of priesthood – charisms equipping the Church for the challenges it faces into this new millennium.