Fr Francis – a man of the people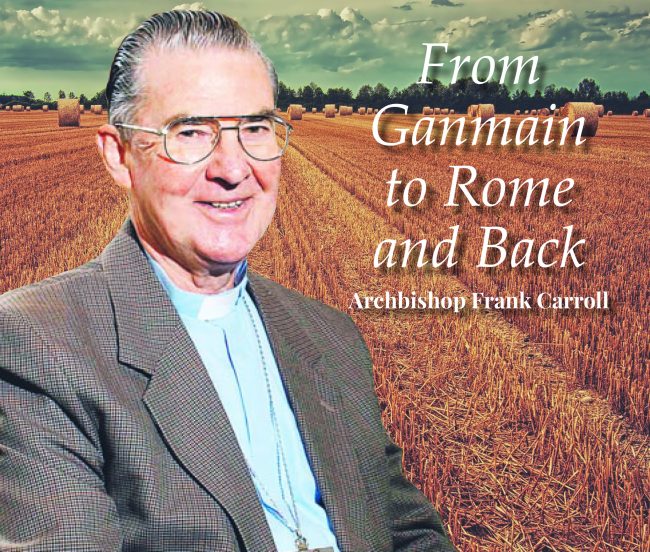 Archbishop Emeritus Francis Carroll has been a Bishop for more than 50 years which is an extraordinarily long time to lead in our Australian Church. He led two Dioceses and was also President of the Australian Catholic Bishops' Conference.
The theme of leadership is reflected strongly in a new book about the Archbishop, or Fr Francis as he prefers to be known. His leadership and contribution to Catholic education through his role as the inaugural Chair of the National Catholic Education Commission (NCEC) until his retirement is unparalleled and is also a strong theme in the book.
The author, Dr Kevin Lawlor has curated the reflections of Fr Francis with skill, deep respect and knowledge. He has highlighted the voice of Fr Francis as he reflects on the Early Years through to his Legacy, which was penned by a variety of people.
Fr Francis' own words in the Preface entitled 'Nova et Vetera', his episcopal motto, set the tone for the book. His reflections reveal the person of Frank Carroll – son, brother, priest, bishop, friend and man of the people. His family is at the heart of who he is and the Carrolls of Ganmain are legendary not only in their local district but well beyond – well-chosen photos reveal this.
The story is presented in a very accessible form with well annotated endnotes revealing the variety and breadth of sources, including extensive interviews with Fr Francis. The historical background to the times prior to the Second Vatican Council to the present are both informative and reveal the breadth and complexity of the times which Fr Francis navigated in his leadership. His insight and wisdom were sought by politicians, leaders of other faith traditions and the broader community.
This is a timely book, not only to capture the wisdom of Fr Francis in his reflections but to inform us as a Church. His abiding commitment to a Church of the Baptised is prevalent throughout the reflections and his pastoral leadership is instructive during this time of discernment as the Church prepares for the Plenary Council.
The admiration and appreciation of the legacy of Fr Francis inspired the author, Kevin Lawlor who with his scholarship in Church history and theology coupled with his generous contribution of time, has given this gift to the Church and broader community.
---
The book is available from the Catholic Bookshop in Manuka or philomenabillington@gmail.com
Kevin Lawlor (2019)
FROM GANMAIN TO ROME & BACK – Reflections on the Life & Priestly Ministry of Archbishop Francis Carroll DD DCL