From India to Temora, via quarantine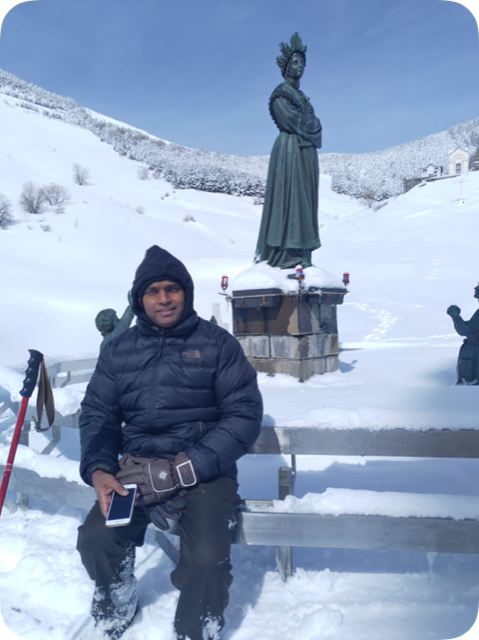 Temora priest Fr Sijo Jose never expected his trip home to India to end with two weeks of quarantine in an Adelaide hotel room.
But the Indian priest is grateful to be back in Australia and counting the days to May 4 when he can return to his parishioners.
"I miss my parish community so much," Fr Sijo said. "I have been away a long time and Temora is my home.
"I understand why quarantine is necessary. It is okay. I am saying my prayers and watching some news and joining in the daily Mass from the Archdiocese.
"All the meals are delivered to your door but there is no human contact. The parishioners call and I am talking to my family too."
Fr Sijo, who has been at the Temora Mission more than a year, flew out of Australia on long-service leave on February 10 and expected to return on April 1.

En route to his family in Kerala he visited the village of La Salette in the French Alps, not far from Grenoble.
The village is the site of a Marian apparition and the shrine is the birthplace of the order Fr Sijo belongs to, the Missionaries of Our Lady of La Salette.
In India, Fr Sijo was enjoying staying with his parents, who live with Fr Sijo's brother, sister-in-law and their five year old son and three year old daughter, when the coronavirus hit.
The Indian government imposed a 21-day lockdown in late March so Fr Sijo was unable to leave until April 19.
"Celebrating Easter with my family was lovely because for so many years I have been in a parish away from home," he said.
"Having more time with my family and in my hometown was beautiful."
The Australian Embassy organized two buses to take Indian-born Australians from Kerala to Chennai and, after the 12-hour trip, Fr Sijo boarded a special flight to Adelaide with 360 others.
Ordained in 2009, Fr Sijo came to Australia in 2012. He was assistant priest at Page and Gungahlin before moving to Goulburn for two years. From there he moved to Tumut and then on to the Temora Mission.
"The Temora Mission is a big area to look after but the people are so caring and good," Fr Sijo said. "I will be happy to be back with them."