Georgia's story: more than a phase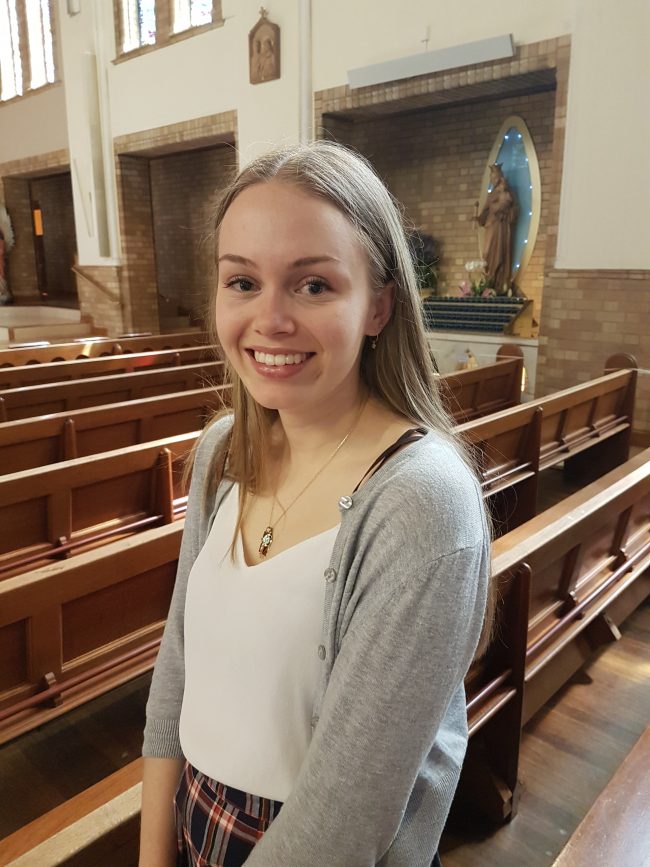 She's young. Only twenty. A Catholic less than two years.
In April 2019, Georgia Whitaker told her story to the Catholic Voice on the eve of her baptism into the church as an adult convert with no previous religious experience or affiliation.
Back then, she displayed wisdom beyond her years when she described her coming to the church as "not a phase."
It was "right inside her", she said, and she couldn't be more confident about becoming a Catholic.
Two years on, the Catholic Voice again spoke to Georgia to see if the convert's initial zeal had dimmed? Was it just a phase after all?
"No, it wasn't a phase," she said.
"But like everyone else you have your dry spots in your faith and there are times I think, what am I doing here? But I know if I didn't have those doubts I wouldn't have made my way to the faith."
"Just work through it, I tell myself. Trust in God."
And work through it she does. She prefers traditional forms of worship and participates in the Latin Mass community in Canberra.
"They're [Latin Masses] very meditative and allow me to get into the zone. The format just suited me."
She's had to 'work through' other aspects of her faith, not least the church's teachings on moral and social issues such as same-sex marriage, abortion and euthanasia.
"As long as we love the people going through those things the way Jesus would, it will all work out in the end," she said.
Georgia chose St Terese of Lisieux as her confirmation saint and the Little Flower's messages of faith and love have clearly influenced Georgia's outlook on her beliefs.
For those times when there are struggles and Georgia doesn't feel close to God she says there might be a temptation to push the faith away.
"But I think a lot of it is about not relying on those feelings and just trusting in your faith and your choice and in your knowledge of God, rather than how it feels."
For Georgia when difficulties emerge, trust the mind and not the heart. Let the mind rule.
"The church at its core is good and holy and made up of people that sometimes make mistakes. Be the change you want to see. Build bridges yourself."
"Foster an environment you think Jesus would have done," Georgia said.
With its focus on love and trust, it's a remarkable and inspirational message from someone so young and at such an early leg of their journey of faith.
It's a story that's now gone from phase to page – page one of Georgia's story.