Getting up from our armchairs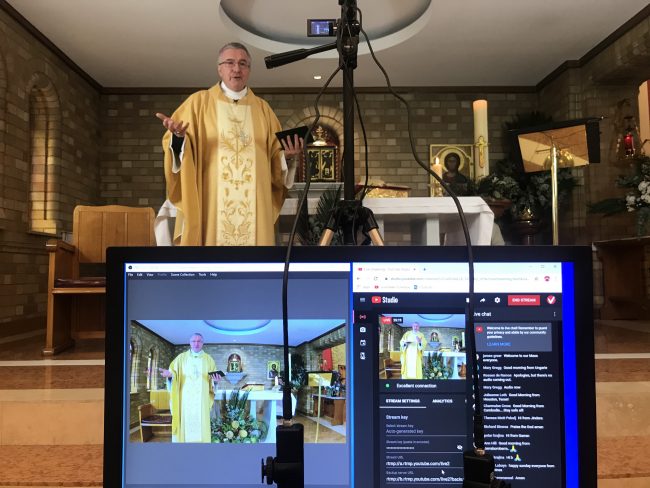 ONLINE Mass has created a community of armchair Catholics and transitioning back to the pews will be a challenge, Archbishop Christopher has said.
Church doors were "creaking open", he said, with parishes operating rosters for 10 parishioners at each Mass.
But the Archbishop cautioned that the community had experienced multiple traumas and many people were vulnerable.
"We still have drought in some areas, we had bushfires and now this pandemic," Archbishop Christopher said. "We are proclaiming the gospel in an age of uncertainty, chaos and trauma."
The Archbishop referred to Pope Francis who wanted to return to normal Mass and was sceptical about an electronic or 'e-church'.
"People from their living rooms can pick any Mass they want, but the church is not in an armchair, it is in a community," Archbishop Christopher said.
"The transition from an e-church to going back to how we were, while keeping some of the great things we have learned, will be a challenge.
"The pandemic has softened our individualistic and narcissistic culture. The communal and family aspect has grown stronger.
"I wouldn't want to lose that as we click back to recovery mode. It was Pope John Paul II who said society comes through the family."
Catholics across the Archdiocese are phoning parish offices to request a spot at Mass with St Christopher's Cathedral putting on more Masses to meet demand. It has 7.30am, 12.15pm and 5pm daily Mass plus 8am, 9am, 11am, 5.30pm and 6.30pm Sunday Mass.
"The filmed Mass is a pastoral comfort but not a substitute," Cathedral Administrator Fr Trenton van Reesch said.
"It is a wonderful thing but also dangerous as some people might think, we can watch Mass, we don't really need to be there. We need to remind ourselves that God is bigger than the pandemic."
Up to 40 people used to attend daily Mass at Goulburn and Fr Joshy Kurien said they were trying to accommodate everyone.
"People have been missing it dreadfully, especially those who have struggles," he said.
As well as 9am Mass at Our Lady of Fatima church in North Goulburn, Fr Joshy celebrates daily online Mass.
"I missed a couple of times and the parishioners asked what had happened," he chuckled.
"For me it is a penance, not saying the Mass but celebrating without any people there. It is hard but I offer it up for the people and the church."