God laughed: the importance of laughter in our faith, friendships and families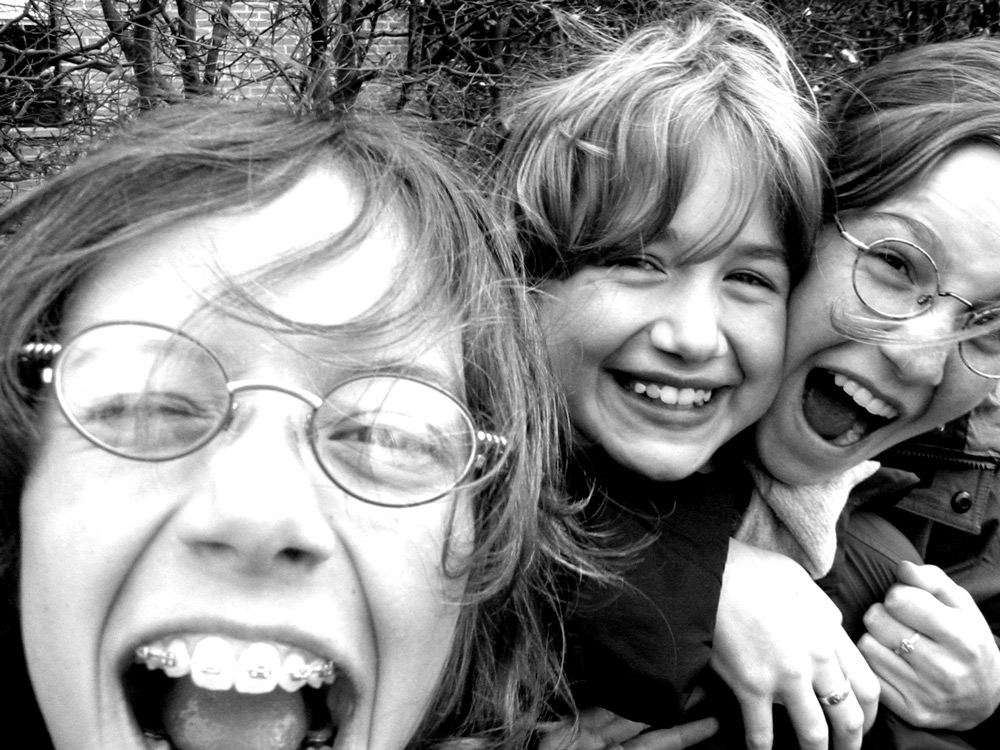 When was the last time you laughed out loud, giggled until your ribs hurt or your mouth ached?
My six year old son and I recently enjoyed a good laugh as we edited a short video of his younger sister riding her bike (with the 'Jaws' theme song behind it) as her first attempts at pedaling were interrupted by an accidental collision with him!
It was a funny candid moment caught on camera and was enjoyed replay after replay as he went around showing the rest of the family, giggling the whole time.
Our family enjoys laughing at the hilarious moments around the home, telling jokes on car trips, chuckling at cars that look like they have human faces, or posing in front of statues for family portraits. Sometimes the comedy is intentional (I am the self-appointed king of dad jokes) and at other times it catches us all by surprise.
As I listened to an interview with Sister Helena Burns on 'The Coaster', I heard her describe a relationship with a God who has a sense of humor. He is a God who made her laugh and enjoyed seeing her smile at the ridiculous, the silly and the downright funny.
I hadn't previously considered God to have a sense of humor, but why wouldn't He? Much of my early Catholic formation focused on the pious nature of God who appeared as distant, serious and perhaps cold, even vengeful and angry.
Imagery
My Catholic imagination was limited to the images and statues of the crucified Christ, suffering in agony, peacefully laying in a manger, or majestically ascending into heaven. They lacked personality. Sister Helena spoke of personally knowing God's movements in her life, the way He made her laugh, reminding her not to take things too seriously. This is a God who understands my sense of humor and delights in me.
I have always enjoyed making people laugh and it fills me with joy to see my happiness reflected in the faces of other people. I'm also drawn to people who help me appreciate the lighter side of life and I'm fortunate to be surrounded by students, staff and friends who remind me to laugh every day.
One particular colleague is notorious for telling jokes. Allan is one of those people that you see coming and know that you will leave with a smile on your face. He is a great storyteller and is welcome relief in the midst of a busy day of teaching and is never too busy to stop and ask, "Nathan, did you hear about the guy who…" I often try to retell his jokes (poorly) to anyone who will stop and listen.
There is a communal nature to comedy and it can become infectious, spreading joy from one person to another, changing the mood in a room and indeed a whole community.
Sharing
I love to share the funny stories, photos and happenings of family life on social media and often LOL at the comic genius of my friends. My Facebook feed is not slick and shiny, showcasing the best of the best bits of life. I'm happy to share the silly things that I do, life's fails and the irony of daily disasters.
Aubin notes in her article "sense of humor demands a perceptive gaze and a good knowledge of oneself. Whoever applies this form of self-derision to himself or to others is neither blind nor too encumbered by his ego. Humor keeps us the right healthy distance from ourselves. That is to say, it permits us to see ourselves with our own shortcomings and inadequacies and to laugh at them, not ironically or in a disenchanted fashion, but gently and tenderly, as does the Lord when he looks at us."
A favorite scene from the Passion of Christ is when Mary pokes fun at Jesus's invention of the table, teasing that "it will never catch on". This dry sense of humor is an essential component of my family life and Dowthwaite attributes positive humor to creative thinking, healthy relationships and high emotional intelligence in her article
'Funny people are more intelligent than their po-faced peers'.
We are in the good company of Saints Philip Neri and Thomas More who employed humor to connect with others and combined strong wit with more serious subjects. Pope Francis prays St Thomas More's prayer for humor "Grant me, O Lord, a sense of good humor. Allow me the grace to be able to take a joke to discover in life a bit of joy, and to be able to share it with others".
Power of a good laugh
The power of a good laugh cannot be underestimated and the effect of connection it establishes is explored in the movie Patch Adams. Adams comes to realization that "we need to start treating the patient as well as the disease" and that there is more to the clinical science of healing people.
The same can be said for our attempts to share the good news of the Gospel with those we encounter. Joseph Ratzinger reminds us "where joylessness rules and humor dies, we may be certain that the Holy Spirit, the spirit of Jesus Christ, is not present".
Australian Bishop Richard Umbers has reached viral status in the world of memes and found a way to reach a large and diverse audience with the proclamation of the Gospel. Bishop Umbers creates and shares some brilliant memes which combine wit and a decisive (sometimes divisive) message on his thoughts concerning theology, ecclesiology and life.
He is not the first Christian to try a lighter approach and many evangelists employ humor to reach out to and connect with those on the periphery (Fr Mike Schmitz is a personal favorite). Humor is also a wonderful way to explore complex societal issues and has been used to advocate for social justice. A prime example is Radi-Aid's 'Africa for Norway' satirical look at solidarity gone wrong.
Of course laughter and humour are only parts of the fullness of human emotion and experience and it is unrealistic to think that we can always deliver comic genius or that it is constantly needed and appropriate. However, Russian novelist Fyodor Dostoevsky said, "if you wish to glimpse inside a human soul and get to know the man, don't bother analyzing his ways of being silent, of talking, of weeping, or seeing how much he is moved by noble ideas; you'll get better results if you just watch him laugh. If he laughs well, he's a good man… All I claim to know is that laughter is the most reliable gauge of human nature."
Originally published on www.catholicmom.com.