'Heal country, heal our nation': NAIDOC Mass 2021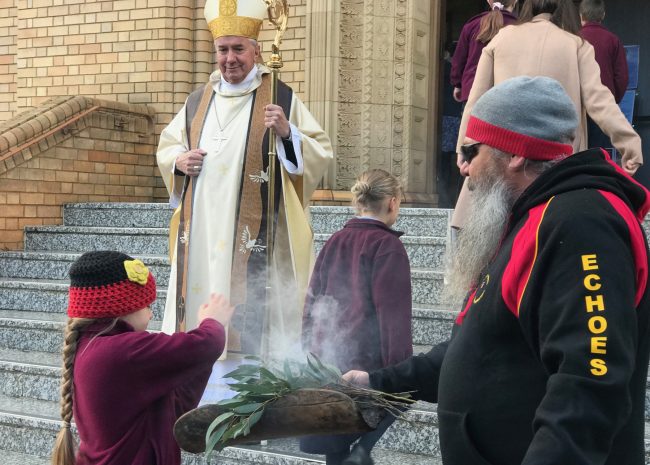 'Heal Country, heal our Nation' was the theme of this year's NAIDOC mass at St Christopher Cathedral in Canberra, led by Archbishop Christopher Prowse.
The annual mass sees the archdiocese's education community come together to celebrate the history, diversity, and achievements of the nation's Aboriginal and Torres Strait Islander peoples.
Participants were greeted with a smoking ceremony by the Wiradjuri Echoes, an award winning local indigenous performance group.
During his homily the Archbishop welcomed the increased number of indigenous students attending archdiocesan schools with the figure standing at over 700.
He drew from his personal experience of once celebrating an outside mass for a mostly indigenous community to describe the lessons he had learned of the deep connections between their spirituality and the natural environment.
"They had the ability to see in the ordinary things of creation the extraordinary presence of Jesus," the Archbishop said.
He similarly urged school communities to listen carefully to and learn from indigenous students. This would allow all to walk together as friends, not just token friends, he said.
Following the mass, Archbishop Prowse presented the 2021 NAIDOC awards that recognise significant contributions to Aboriginal education in the archdiocese in one of five categories: academic, performing and visual arts, sport, leadership, and culture/identity.
With NSW recipients prevented from attending due to COVID restrictions, this year's ACT award recipients included: Edith Baggoley and Mia Tuoro, Year 6 and Year 5 respectively from St Benedict's Narrabundah, Elizabeth (Lily) McConnell, Year 9 student, St Clare's college, and Mariah Brody, Year 11, Merici College.
Ms Sherrin Murphy was also presented with an award for her contributions to the St Benedict's primary school community on indigenous culture and history.