Heart beats from home for Canberra's African community
Where in Canberra each month would you expect to find the most diverse gathering of members of the African community?
The surprising answer is St Peter Chanel Church, Yarralumla, where on the second Sunday of every month people from Cameroon, Nigeria, Zimbabwe, South Sudan, Democratic Republic of Congo, Zambia, Uganda, Kenya, Ghana, Côte d'Ivoire and elsewhere bring the unique spirit of the great continent to Mass.
Members of the community have gathered with the beat of drums and the sound of songs in a variety of African languages for their first Mass of the year.
"It's not just about the Mass," says Paul Forka, from Cameroon, who came to Australia to study in the late 1990s and stayed.
He and wife Terri are senior members of the community in Canberra.
"[The African Mass] provides a social support network so people can interact and relate to each other," he says.
"It's also about building our community."
And also, it's clear, to building bridges to the wider Catholic community.
The colour and vibrancy of the African Mass is not just an example of the African community's diversity but also of the diversity, overall, of the faith practised locally in the Archdiocese.
It's one that is open to all to reflect on and experience.
"Everyone is welcome," says Yvette Poudjom Djomani, an African community member and geophysicist who arrived here from Cameroon in 1997.
The African Masses were initially set up in the mid to late 2000s with the help of Nigerian-born clergy in Canberra.
Today the Mass attracts 50 to 100 members of the community, with the support of celebrant Fr Trenton van Reesch.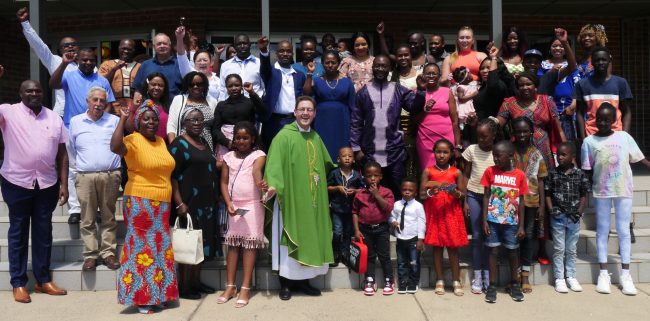 Canberra's African Catholic community faces its challenges with some members more attracted to the Pentecostal movement and others struggling to get to Mass because of job and family commitments.
Despite these challenges, the community plays a role in archdiocesan activities including significant involvement in the Marian Procession and the Multicultural Mass.
Senior members, including Paul and Yvette, are active and influential members of parish councils and other archdiocesan bodies.
The engine room for much of this activity lies in the spirit and sound of the community's African Mass.