How Ashley Stricklin found the Catholic Church at her Baptist college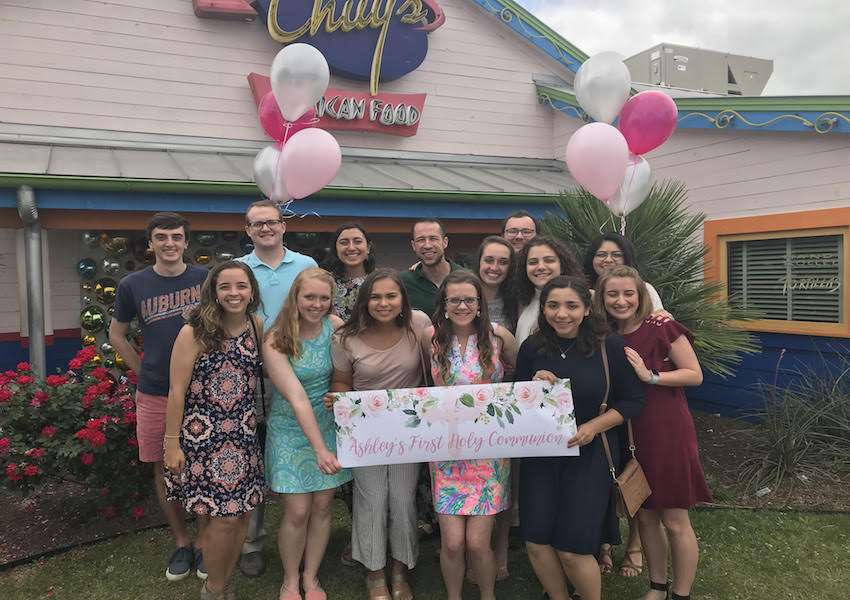 Washington D.C., Nov 23, 2019 / 06:50 am (CNA) – Ashley Stricklin says she had a typical Texan upbringing. She was raised a Southern Baptist in a town outside of Dallas, with a family who was active in her church. Her father was a deacon in their Baptist church, and she accepted Jesus into her heart when she was nine.
Although Stricklin lived near a Catholic church, she had never been inside it, nor did she really know any Catholics–that is, until she went off to Baylor University, one of the largest Baptist-affiliated universities in the world. There, she met faithful Catholics, and embarked on a long, and at times even secretive, journey into the Catholic Church.
The Catholics Stricklin met at Baylor were "always so joyful," which prompted her to begin to wonder what exactly was so different between the Catholic faith and the faith she was raised in. Despite her faithful Baptist upbringing, Stricklin said that she always felt as though "something was missing," in her life, but could not quite put her finger on it.
Her new Catholic friends invited her to Eucharistic adoration, which was the first time Stricklin had ever seen the Blessed Sacrament–and she began to see exactly what she had been missing.
After that, everything changed, and she says she "started her journey" toward Catholicism. Three years later, that journey would reach a milestone, when she was received into the Church on April 28, 2019–Divine Mercy Sunday.
Stricklin received her first communion and confirmation at St. Peter's Student Center, which is a campus ministry of the Diocese of Austin for students of Baylor University and nearby colleges.
Like many new Catholics, there were significant hurdles that Stricklin had to overcome before being received into the Church–both in the doctrinal sense and in the personal. For Stricklin, it was easy for her to come to accept teachings she had previously believed were wrong, such as the Immaculate Conception of Mary and Mary's role as mediatrix of grace.
"I actually did a Marian consecration before I was confirmed," said Stricklin. "And so it just went full circle for me."
It was the reaction of her Baptist parents, however, that proved to be one of Stricklin's biggest anxieties before entering the Church. Although Stricklin knew from early on in college that she wanted to become Catholic, she delayed entering the Church until her senior year, because she was afraid of how they would react.
"I definitely thought my parents were going to disown me," Stricklin said. "That's why I waited until I was a senior, because I didn't think my parents would continue to pay for college."
In the meantime, Stricklin read book after book about Catholicism, nearly exhausting the Baylor library's section on Catholicism. She read everything from "Rome Sweet Home" to the "Summa Theologica," eventually concentrating on conversion stories and books about the Eucharist.
Still, she kept all of her religious curiosity and plans a secret from her parents–for three years.
"I would hide my books," she said. "I cleaned my (web) browsers, which was really not a good idea looking back now."
Fearful still of her parents' rejection, Stricklin waited until just two months before her First Communion and Confirmation to tell them what she was planning on doing. To her astonishment, while they were certainly taken aback, they neither abandoned her nor cut her off.
"I told my mom in February and she thought I was joking, like she just thought it was a joke," she said, laughing. "I was like, 'Oh no, mom, it's not a joke.'"
Despite her fears, Stricklin's mother attended her First Communion, and her father is supportive of her religious journey, both of which were pleasant surprises. Her grandparents, however, still do not know she has converted.
Stricklin chose St. John Paul II as her confirmation saint, something that she was hesitant to do as she thought it would reveal that she was a convert. Eventually, she realized this was silly, and went with him anyways. She said she chose St. John Paul II due to both her interest in Eastern Europe, and because she found his papacy and writings to be "truly inspiring."
Stricklin is now a student at Creighton University School of Law, where will graduate in 2022. About seven months into her new journey as a fully-initiated Catholic, Stricklin remains intrigued and fulfilled by the Eucharist, and she continues to delve more into her faith.
After initially being intrigued by the Eucharist at her first-ever adoration, Stricklin says now that she considers the sacrament to be "such a joy" and that she eagerly looks forward to receiving it. And despite her initial troubles, fears, and everything else associated with the process of converting to Catholicism, she says things have been smooth sailing.
"It's been an interesting journey, and each day I just continue to strive for sainthood and just keep trying to increase and my relationships with God, so, yeah, it's been good," she said. "It's been a cool journey so far."
This story is part of a CNA series profiling new converts to the Catholic faith.