How two teens created a national volunteer group by shopping for their grandparents
Teens Helping Seniors is a wonderful volunteer service of youngsters caring for the vulnerable in their community.
Two caring teens, Dhruv Pai, 16, and Matt Casertano, 15, were anxious about their grandparents when the COVID-19 outbreak started, so back in March they volunteered to do the shopping for their elderly relatives. Now, three months later, their efforts have led to a national volunteer service delivering groceries and other items to other seniors across the country.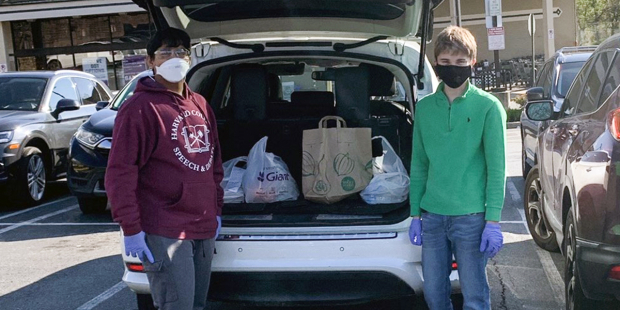 The boys originally had the idea to get their classmates on board to deliver groceries to vulnerable members in their community. However, interest quickly spread and the charity, Teens Helping Seniors, now counts 14 chapters nationwide with one developing in Montreal.
"We've had a really rapidly growing demand. Working out those kinds of logistics can be really hard," Dhruv explained.
While lots of the volunteers are able to deliver groceries using their cars, Dhruv and Matt have to rely on their feet, bikes, or a carpool. Impressively, their own chapter alone has made more than 350 deliveries in Montgomery County, including groceries, medical prescriptions, or specific items needed by the elderly, thanks to their 250 volunteers.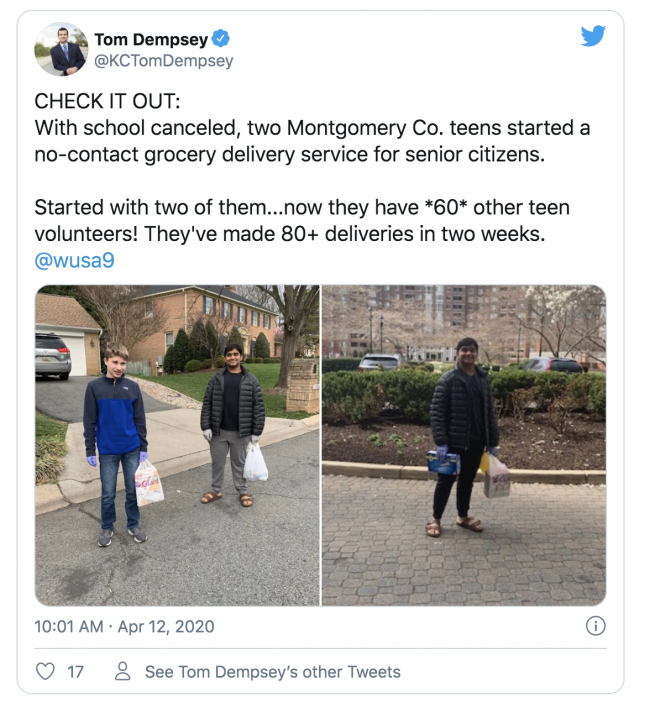 The teens have also developed some key business skills, organizing a whole team of volunteers who shop, deliver, and arrange logistics, as well as build their online presence. It's just like any professional delivery service whereby the client emails a grocery list and sets up an agreed schedule to have them delivered. They then make a payment using Venmo or arrange to leave it outside their home.
The volunteers have the best interests of the elderly at heart. They follow all the necessary safety precautions and make sure they disinfect the shopping bags before they drop them off.
The one major difference between this volunteer delivery service and regular services is that those involved go the extra mile. One volunteer dropped off groceries and a surprise birthday cake for a senior who was spending his 85th birthday in isolation. Another volunteer ensures he gets the order right by calling the customer from the store if he has any questions. The seniors are naturally grateful.
"I was just so impressed by these young people doing this," explained 65-year-old Regula Guess whose husband is at high risk. "He [Jacob] always called and was very polite. It's just amazing how this brings out the good in people."
And for Jacob, who volunteers for 6-8 hours a week, the experience has been beneficial for him, too. Thanks to his clients' requests he's had to learn the ropes of grocery shopping and navigating all those aisles searching for those specific ingredients. He's now got a whole new appreciation for his own mum and all the times she has to go and fill that shopping cart!
It's incredible that two young men have achieved a much-needed service in a very short space of time, and it all stems from loving and caring for their grandparents.