International Youth Forum XI: Youth in action in a synodal Church
Three Australian young people, along with ACBC Office for Youth Director, Malcolm Hart, have joined with more than 250 other young people from more than 110 countries in Rome for the XI International Youth Forum, titled 'Youth in action in a synodal Church'.
Participants in the gathering represent youth from bishops' conferences, movements and ecclesiatical associations from around the world, as well as 17 young people that participated in last year's Synod of Bishops on Young People, Faith and Vocational Discernment. Among the 17 selected was Australia's own auditor at the Synod, Sebastian Duhau. The two young people selected by the Australian Bishops' Commission for Evangelisation, Laity and Ministry to represent the Australian Episcopal Conference at the meeting are Holly Roberts and Huw Warmenhoven.
This significant meeting of young people follows last year's synodal process and the publication of the Apostolic Exhortation, Christus Vivit.
Over four days, Holly, Huw, Sebastian, Malcolm and the worldwide contingent of delegates will reflect on the conclusions of the Synod on Young People and on Pope Francis' letter to Young People and the entire People of God, Christus Vivit, with the aim of drawing out pastoral responses for realising the realities of the documents in local contexts around the world.
Please keep our Australian delegates and the whole meeting in your prayers and watch the ACBC Office for Youth social media platforms for updates!
RELATED:
Australian Delegates
The Australian Catholic Bishops' Commission for Evangelisation, Laity and Ministry selected Holly Roberts, 22, from the Archdiocese of Adelaide and Huw Warmenhoven, 25, from the Archdiocese of Canberra-Goulburn to represent the voice of young Australians on behalf of the Australian Bishops' Conference.
Sebastian Duhau from Parramatta Diocese, who attended the Synod last year as the Australian auditor, was invited by the Vatican's Dicastery for the Laity, Family and Life as one of the 17 youth auditors to return to Rome for this gathering. Malcolm Hart, Director of the ACBC Office for Youth and Advisor to the Dicastery for Laity, Family and Life was also invited to attend.
At the close of day one of the gathering, Holly Roberts said that "one thing that keeps popping up was about being inclusive of all young people and accompanying them where they're at in their journey." Huw Warmenhoven said one of the key messages from day one was to understand that "The Synod isn't just an event, it's not something that just happened, but it's actually how we should approach Church. That is what it is, it is a synodal church. It's a church that's on a journey, it's a church that seeks accompaniment, it's a church that seeks to listen and to welcome everyone."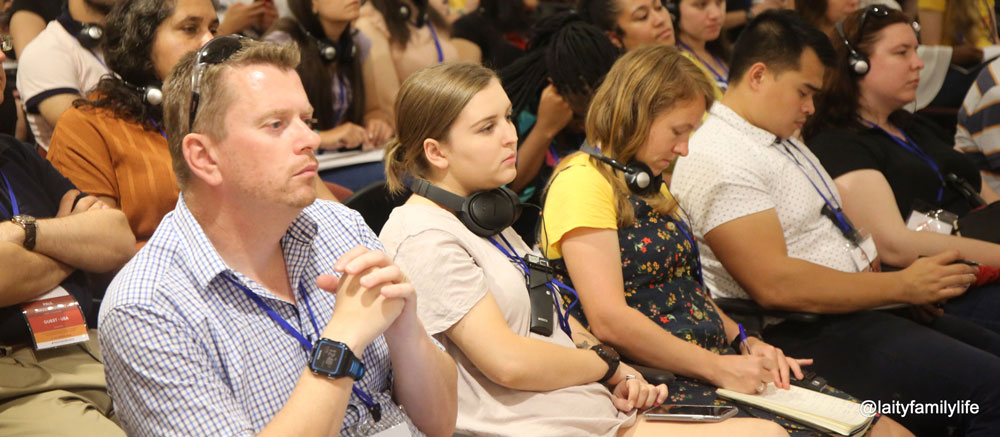 Photo: Malcolm Hart & Holly Roberts on Day One of the International Forum (Credit: Dicastery for Laity, Family, Life)