Man leaves fortune to town that saved him from the Nazis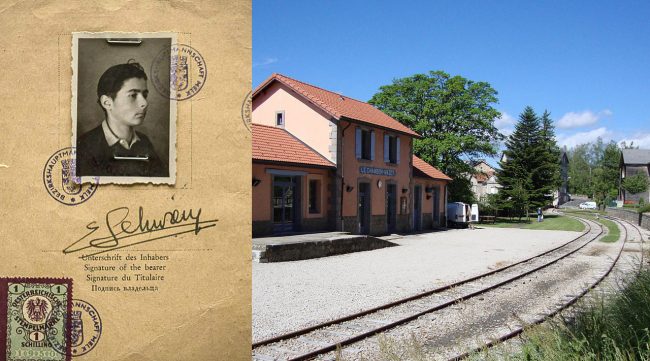 The little boy who found refuge in a French town never forgot that generosity, and found a way to repay it decades later.
It's been almost 70 years since Eric Schwan arrived from Austria with his family in the French village of Le Chambon-sur-Lignon. They, like thousands of other Jews, were fleeing certain death in the Nazi concentration camps. It was December of 1943.
This village of about 2,500 inhabitants, located in the east-central part of France, hid the Schwan family in the local school. For two years, people from the town brought the family food and water.
Eric would never forget what they did for him and his family, even as decades passed. In gratitude, when he died last December at age 90, he left the village more than 2 million dollars in his will.
It was his nephew who made Eric's last will and testament known. The town council received the money with surprise and joy.
Eric placed only one condition: He asked that the funds be used for scholarships and other educational and youth initiatives.
The Councilor for Culture, who is a historian, expressed his gratitude: "For us, it's very important," he said.
It turns out there's a lot more to the story of this town, Le Chambon-sur-Lignon, in relation to the Nazi persecution of Jewish people. It's estimated that the townspeople saved between 3,000 and 5,000 people during the years of the Holocaust.
A Protestant pastor, André Trocmé, together with his wife Magda, set up a network of people who helped Jews flee the Holocaust. Trocmé created—together with another pastor—a Christian school for people from the countryside. Starting in 1940, he took in and gave refuge to persecuted Jews, at first alone with his wife, and later with the approval of the village assembly.
The whole town agreed to collaborate, to protect the refugees, and to keep silent. They stuck to this plan even though some locals were arrested, including Trocmé himself.
Eric Schwan and his family arrived in 1943 and were hidden in the school. Others were sheltered in stables, cellars, haystacks, double walls, kitchens, cellars and attics. On average, there were about 500 Jews in transit at any given time.
The network of assistance included 13 groups of young people from Chambon who met every 15 days for "Bible study and resistance." Their goal was the motto proposed by Jesus in the Gospel: "to overcome evil with an abundance of good." They ended up receiving help, even while France was occupied, from Catholic institutions, the International Red Cross, and others.
Le Chambon-sur-Lignon received the distinction of "Righteous Among the Nations," awarded by Israel to non-Jewish groups and individuals who helped the Jewish people persecuted during the Second World War.
Eric Schwan liked to live a private life, but we know that after the war he went with his family to live in the neighboring city of Lyon, where he studied medical biology and got married. He never forgot the courage of the Le Chambon-sur-Lignon townspeople, and found a generous way to repay them.
www.https://aleteia.org