More than 100,000 Volunteers from Polish Dioceses Help Those in Need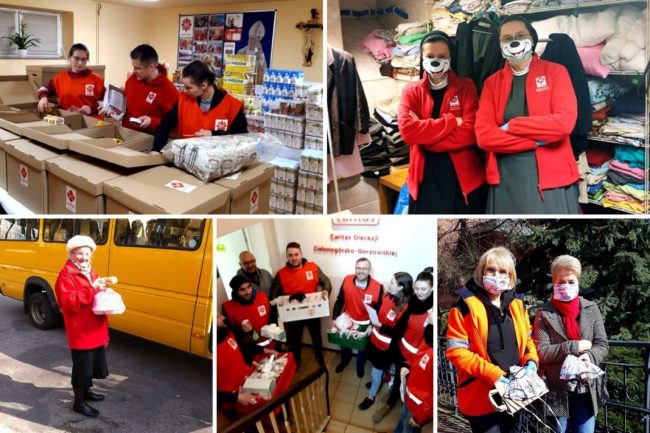 Touchless food parcels, warm meals for seniors and people in quarantine, food collections, hospital equipment, virtual workshops and homework for children as well as spiritual and psychological support – these are just some of the charitable initiatives carried out by the Church during the coronavirus epidemic. More than 100,000 volunteers from all 44 Polish dioceses are involved, said the spokesman of the Polish Bishops' Conference, Fr. Paweł Rytel-Andrianik.
Volunteers deliver warm meals and food parcels to the homes of the elderly and quarantined people on a daily basis as part of the "touchless parcel" campaign. In almost all dioceses, special telephone helplines have been set up for people who need spiritual support, conversation and strengthening. "Priest at the tone" – it is a special telephone helpline, launched by the Archdiocese of Poznań, where one can talk to priests every day.
The dioceses organize collections of funds for the purchase of equipment for hospitals, e.g. ventilators and protective materials for medical staff. Religious sisters, communities, participants in occupational therapy workshops sew thousands of masks every day from materials donated by sponsors.
Support is also given to the homeless, e.g. in night shelters, eateries or baths. Those in need are given sanitary preparations, shoes, and clothing. In the diocesan eateries, thousands of meals are served daily. Streetworkers working with the homeless give out hygiene products and disinfectants and talk about how to protect oneself from infection.
The variety of assistance activities and their scale is the Church's response to Jesus' call for love of neighbor and care for the needy. "Solidarity is needed in every situation; people are needed who will go out to help those who are old, lonely, who need someone to do the shopping for them, and there is also a need for contact, even by phone, so that people do not feel completely alone" – emphasizes Archbishop Stanisław Gądecki, President of the Polish Bishops' Conference.