National Briefs
RESTORATION of Bathurst's Cathedral of St Michael and St John has won a National Trust Heritage Award. The project aimed to extend the life of the 159-year-old Cathedral by at least 100 years. Completed in March 2021, it is the most significant renovation in the lifetime of the building, taking eight years to complete at a cost of $8.2million.
Bathurst Diocese
---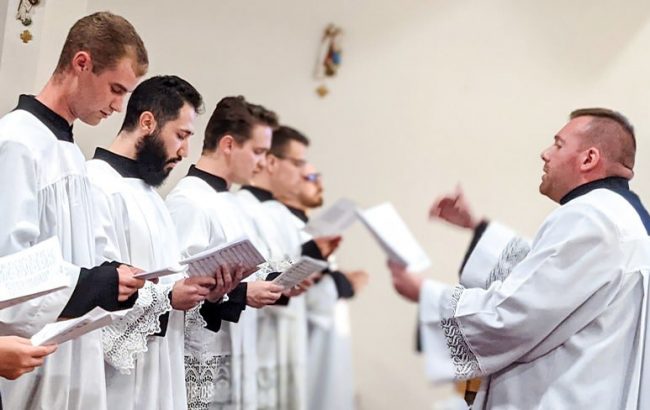 SACRED sounds soared to the ceiling at St Joseph's Moorebank as traditional Roman Catholic music was chanted by the newly-formed Schola of St Joseph. In its inaugural appearance, the Schola graced those arriving early for Mass with evening vespers performed a cappella and in ancient melody. Following vespers and accompanied by an organist, the group beautified the 6pm Mass with hymns and Mass parts that lifted the liturgy.
The Catholic Weekly
---
CONSTRUCTION on Our Lady of Vietnamese Martyrs church and the Vietnamese Catholic Community Centre is set to start in Brisbane next month. Archbishop Mark Coleridge blessed the Inala plot in August 2018, but construction was put on hold due to COVID-19. Vietnamese Catholic Community chaplain Fr Joseph Vu said the community needed a larger space where they could catechize and form more than 450 young people who attended Sunday School each week. "Specifically, we want to maintain the language," he said.
The Catholic Leader
---
A VOLUNTARY assisted dying bill is to be introduced into Queensland Parliament next week, with Queensland potentially a step closer to becoming the fourth Australian state to legalise euthanasia. Before the contentious bill was tabled in parliament, Premier Annastacia Palaszczuk spoke with church leaders, including Brisbane Archbishop Mark Coleridge, who is a staunch opponent of euthanasia. The Premier, who is a Catholic, said she supported the bill after witnessing the slow, painful death of her grandmother and uncle last year.
The Catholic Leader