Navigating the new 'gotcha' mentality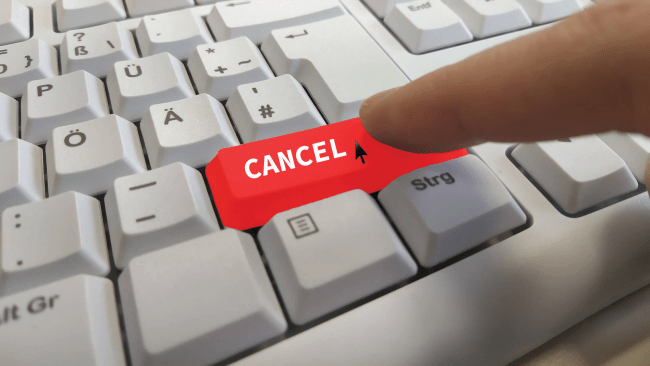 The comedian, John Cleese, scheduled to debate at the famous Cambridge Union earlier this month, was "cancelled" due to a controversy involv­ing another speaker who had impersonated Hitler (art historian Andrew Graham-Dixon). Cleese, who himself impersonated Hitler in a famous comic scene decades earlier, found himself the next victim in the long line of public figures blacklisted / de-platformed / cancelled due to their past deeds. The characteris­tically Cleesian irony in this tale is that the person responsible for cancelling John Cleese was…John Cleese himself.
On November 10, Cleese posted to his 5.6M followers on twitter that: "I was looking forward to talking to students at the Cambridge Union this Friday, but I hear that someone there has been blacklisted for doing an impersonation of Hitler. I regret that I did the same on a Monty Python show, so I am blacklisting myself before someone else does"
Was this self-cancellation a reasonable response to the preceding controversy – the facts of which have been disputed by the Cambridge Union student president ? Was it a brilliantly timed marketing ploy to bolster interest in his soon-to-be-released TV series on cancel culture and wokeness on the UK's Channel Four?
The fact remains that 'cancel culture' is a phenomenon extending far beyond universi­ties. Increasing numbers will experience the chilling effect of coordinated public disapproval. And lest we think that the targets of the new 'gotcha' mentality are only religious conservatives, a recent interview with atheist/evolutionary biologist Richard Dawkins shows those on the left are just as afraid: "I self-censor…More so in recent years…It's not a thing I've done throughout my life, I've always spoken my mind openly. But we're now in a time when if you do speak your mind openly, you are at risk of being picked up and condemned."
How are we to understand and respond? Five simple thoughts.
First, although the expres­sions 'cancelling' and 'cancel culture' are new, the practices of shunning, stigmatising and removing are very old and com­mon in times of cultural revolu­tion and ideological activism. As it goes, 'there is nothing new under the sun'.
Second, there is growing consensus amongst intellectuals, public figures and celebrities from both left to right – secular to religious – that such trends are actually bad: corrosive of public debate, and civic norms that sup­port well-functioning societies.
Third, cancellation tactics often involve an intimidatory, bullying aspect: designed to shut down disagreement and differ­ence. They often undermine and make hollow calls for respect for all and appreciation of diversity.
"The fact remains that 'cancel culture' is a phenomenon extending far beyond universities. Increasing numbers will experience the chilling effect of coordinated public disapproval."
Fourth, cancellation reveals a widespread degree of moral immaturity. Our own actions—anyone's past actions–involve multiple causes and explanations, and a sign of moral maturity is the ability to assess the right­ness or wrongness, degrees and culpability, without assigning people to the 'right' or 'wrong' side of history. In an age marked by decreasing agreement about fundamental values and increase in ethical complexity, our capability to carry think through past and present as a society is under-resourced.
Fifth, cancel culture reveals an unhealthy presentism: that we here and now are uniquely – as never before – able to see clearly what the wrong thing is. This is unlikely, but it is how the relativ­ists of yesterday become today's absolutists.
Understanding and respond­ing to ethical issues can be significantly aided by reading or watching the best articles, books and videos, eg on cancel culture. Luckily, there's now a website that takes the effort of research away and does it for you: www.EthicsFinder.com There's also a whole section on Cancel Culture too. Check it out, and, disclaimer, yes, I was active in the site's creation.
Patrick Langrell is Direc­tor, Portfolio, Strategy and Operations at Australian Catholic University and Editor of EthicsFinder.com