No backward steps for Eden
It was a simple step, but an important one for Eden Langlands.
In a short ceremony before Archbishop Christopher Prowse at St Christopher's Cathedral, the archdiocesan seminarian declared publically his resolve to continue studies towards the priesthood.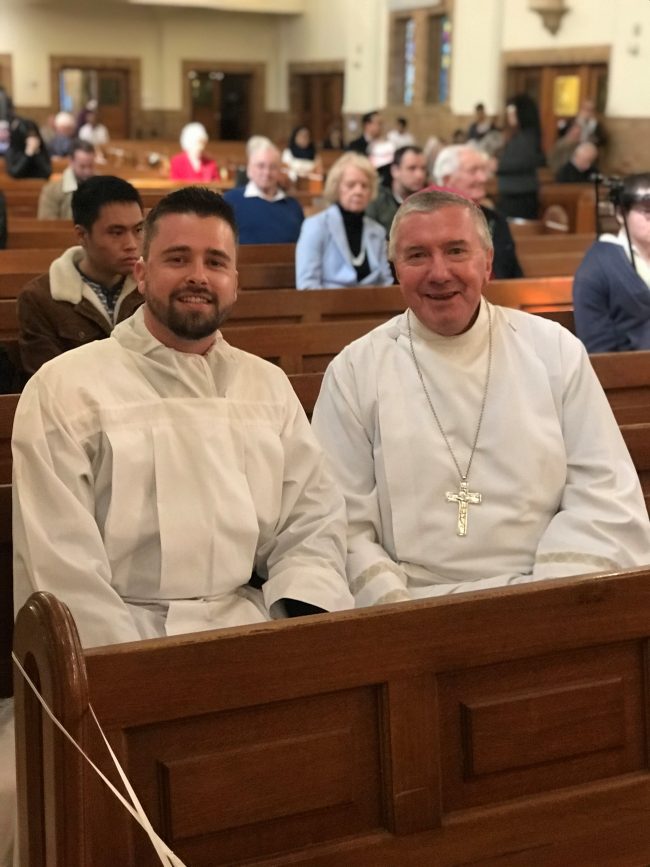 For his part, the Archbishop declared the church's recognition of the seminarian as worthy of going forward.
Eden's pledge before the Archbishop took place under the Rite of Admission to Candidacy to Holy Orders at 11am Mass last Sunday.
In his sixth year of studies at the Seminary of the Good Shepherd in Sydney, Eden recently completed pastoral placement in the Batemans Bay parish.
He came to the seminary after living and working in Young and growing up in Cowra, where he was one of seven children.
His sister, Celine, was present in St Christopher's, with other family members watching online.
Eden told the congregation he had wanted to become a priest from a young age.
This followed a "profound awareness" of how much he needed God in his life.
"We often make choices in life based on what we think will bring us happiness without considering that it is God alone who knows what will give that true fulfilment we all desire," he said.
Quoting Pope Benedict XVI, Eden said if we let Christ into our lives, "we lose nothing, absolutely nothing of what makes life free, beautiful, and great".
The Good Shepherd Appeal, held in parishes last Sunday, raises money for seminary formation, academic training and pastoral work expenses of archdiocesan seminarians. Donations are still welcome.