No cold feet for Vinnies Sleepout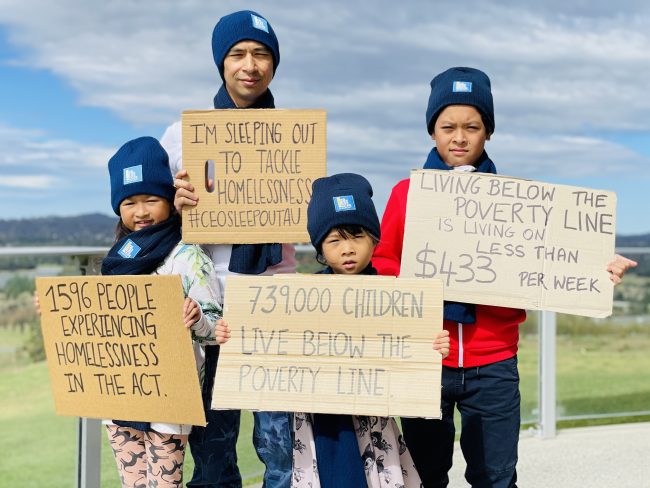 Hundreds of business, government and community leaders will brave the cold one night in June as they take on the annual Vinnies CEO Sleepout.
This year's sleepout on 17 June will be a hybrid event held in-person at the National Arboretum as well as online.
"We will have participants attending the event virtually from all across the Archdiocese joining the livestream and sleeping out in their cars, backyards or on their couches," St Vincent de Paul Society Canberra and Goulburn CEO Barnie van Wyk said.
"All these places reflect the reality of people experiencing homelessness."
The economic downturn over the past 12 months had caused many people, including young children, to sleep rough for the first time.
"The pandemic combined with the current housing crisis is making it more difficult for people living below the poverty line to afford a place to call home," Barnie said.
"Families with young children are struggling to put a safe roof over their children's heads every night.
"Latest statistics from the Australian Bureau of Statistics show that there are 116,000 Australians experiencing homelessness and 13% of them are children under 12 years old."
Last year, the Canberra CEO Sleepout raised $545,768 and Vinnies is aiming even higher this year.
"It's not just about the money. It is about your advocacy, your awareness, and your support to provide for people who cannot speak for themselves," Barnie said.
Among those taking part will be Catholic Education director Ross Fox, Marymead CEO Camilla Rowland, and archdiocesan school principals Matt Egan-Richards from St Clare of Assisi Primary School Conder, Paul Carroll from St Francis Xavier College Florey and David Austin from Good Shepherd Primary School Amaroo.
To find out more about the sleepout, or to make a donation, go to https://www.ceosleepout.org.au/event/canberra or call 02 6234 7347