Protector of peers honoured with Fred Hollows Award
The name Fred Hollows holds a special place in Australian society. He is respected almost universally as a generous and decent man who spent his life in the service of others.
So receiving an award bearing his name is a huge honour. And it's one that Ss Peter and Paul's Primary School, Garran student Georgia Andrighetto is immensely proud of.
Created in 2012, the Fred Hollows Humanitarian Award is bestowed on Year 6 students for conspicuous and sustained acts of humanitarianism and integrity. Those who know her best say that description sits perfectly with Georgia.
"I was astounded, but I wasn't surprised. She is a caring loving person with a gorgeous heart and she really does look after her friends and family and puts them before herself," said her mum, Joanne Andrighetto.
"We are very proud parents to know that our child puts the thoughts of others ahead of herself."
Mrs Andrighetto explained that the award acknowledges students who've done good community and humanitarian work, good integrity and good spirit.
"It's about helping others no matter who they are, just like Fred did," she said.
"He helped everybody… the poorest person on the street to the richest person in the world. He didn't discriminate against anyone's backgrounds, beliefs, religion or income. He wanted to help everyone.
"So [Fred's wife] Gabi and the whole crew created the award to recognise people who followed in the footsteps of what Fred did."
Out of the blue
It all seemed to come out of the blue for Georgia.
She first found out when her parents called out to her just before bed one night and showed her an email that said she'd been nominated.
The family then attended a presentation at the National Library on October 8 at which Georgia received the award from Gabi Hollows.
A little embarrassed by all the attention, she hasn't even spoken about the award with her friends.
"My friends don't really know about it," she said.
"I haven't really told them. They asked what I did on the weekend and said I went to a presentation about Fred Hollows."
Asked why she received the award, she shrugged.
"According to Gabi Hollows and Mr Rutledge, I made sure the people around me were safe and weren't being treated unfairly," she said.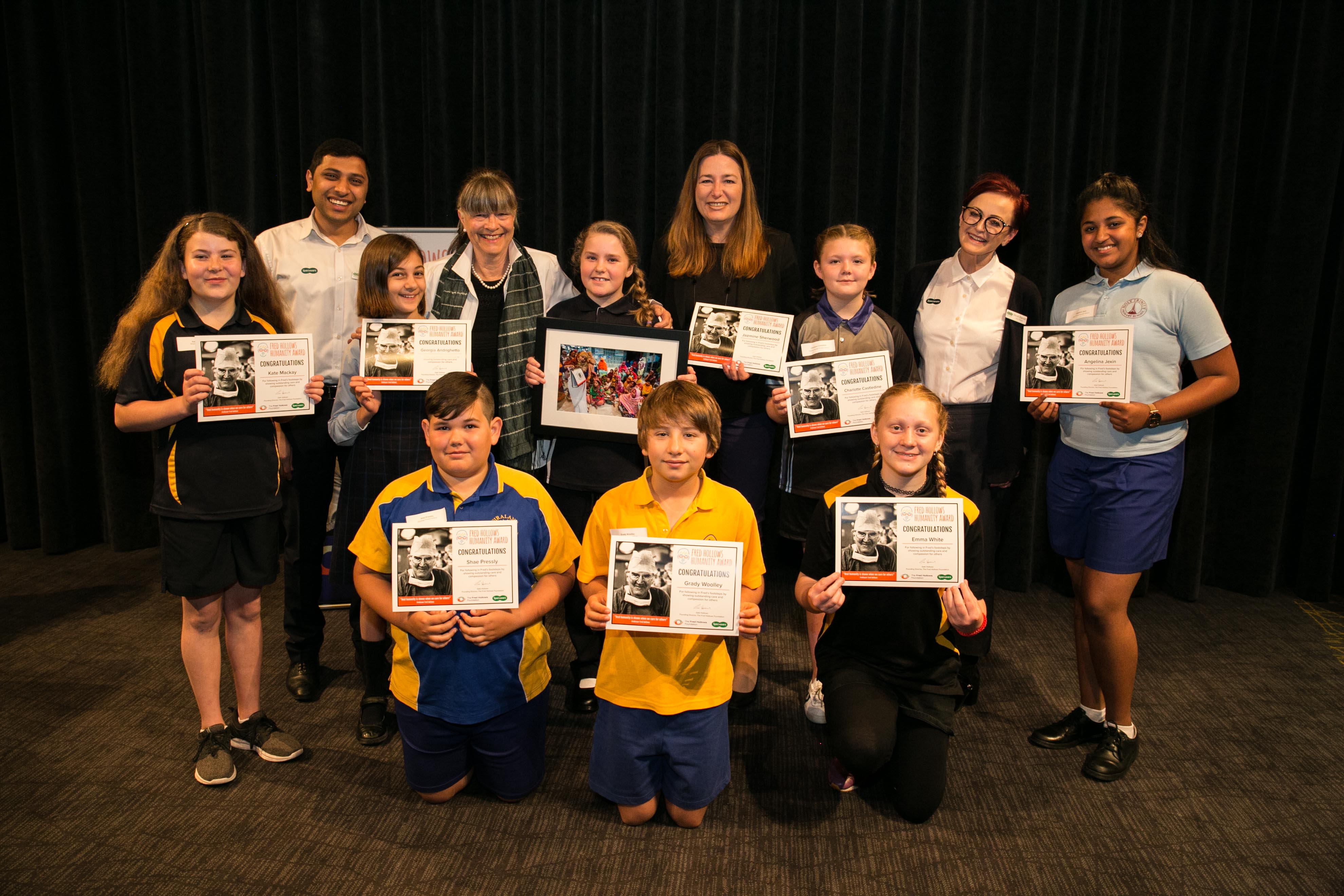 Deserving recipient
While she was content to play down the achievement, her school's Assistant Principal Sean Rutledge, who nominated her, wanted her to receive due recognition.
"Fred was a modern example of caring and compassion in our world," Mr Rutledge said.
"The award celebrates a student who demonstrates incredible care and compassion for others in the school.
"Someone who is selfless, that has a genuine concern for others and looks out for their needs in the community.
"Someone who goes above and beyond to make sure that everyone is feeling safe at school, as well as having the best time they can while they're here.
"That's consistent with the practice of our faith, and that's very much Georgia.
"Whether they're younger students or her own aged peers, or even checking on teachers to make sure they're wellbeing is alright.
"She does a lot and is very selfless in the way she looks after others' needs."
Still only 12 years old, Georgia's already looking forward to what else she can do to help people.
"I've been thinking about volunteering for places like Vinnies and Red Cross," said the worthy recipient.