Refugees and Migrants are the "gems" of our Australian society
Refugees and Migrants are the "gems" of our Australian society Archbishop Christopher Prowse told a colourful congregation at St Christopher's Cathedral.
The faithful from nearly every continent of the world were represented at the recent annual Archdiocesan Multicultural Mass. Archbishop Christopher gave his homily before a full cathedral which was also attended by Australia's Governor-General, David Hurley AC DSC (Retd), his wife Mrs Hurley, Senator Zed Seselja along with several religious and civic leaders.
The Archbishop welcomed the refugees and migrants who had made this archdiocese their home. He spoke of a few of the large schools within the Archdiocese having "broken the ton" with more than a hundred migrant groups being represented.
He went on to describe refugees and migrants as being the "new Lazarus" acknowledging the poverty and sacrifices they have made to live in Australia. Many families "have suffered significant financial and physical struggles in most cases without the support of extended family," he said.
Applying Sunday's Gospel message, the Archbishop highlighted the need to be sensitive and tender to those in our midst who are suffering. "The more wealth you have the more responsibility you carry for those who are not in a similar position."
The Archbishop recounted many stories of families who had fled persecution to come to Australia. "I've heard your stories – incredible stories that must be shouted from the rooftops." He spoke of the great riches Catholic migrants and refugees have bought not only to Archdiocese but to Australia.
"You know that multicultural means multi-religious. So many of you come with a deep and rich Catholic faith. You know more than most that religion and the religious sentiment is the glue in a healthy multi-cultural society." he said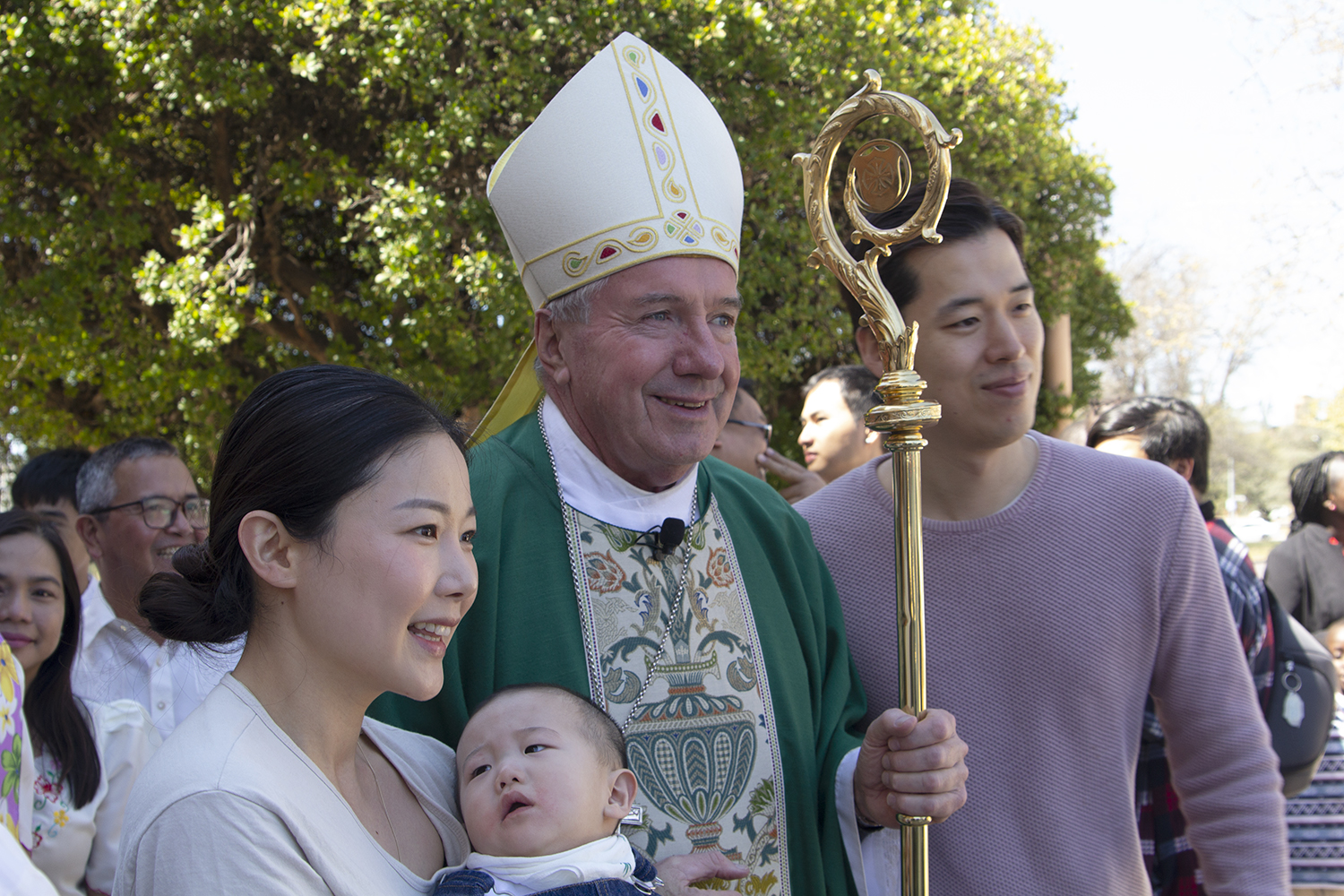 The Archbishop affirmed the congregation for providing a positive example of their faith through their commitment to daily Mass and prayer. "It's in your DNA" he exclaimed. "Thank you for bringing to this ancient but very new country the riches of your Catholic faith."
The special Mass was a celebration of intercultural achievements as a Church and community, he said. The liturgy, with participation by some of the many cultures that make up the Archdiocese, is one of the most vibrant to be witnessed throughout the year.
Mass was followed by a fiesta in St Christopher's piazza featuring Filipino, Ugandan, Vietnamese, Sudanese, Samoan, Spanish, Indian and Korean traditional dance and song.
The Canberra and Goulburn archdiocese is home to more than nine priest chaplains who provide spiritual and pastoral care for many migrant communities.