Remembrance Day 2020
The current COVID pandemic has been a stark reminder of the dramatic impact that events overseas can have on life in Australia. During the Great War, 1914-1918, over 61,000 Australians were killed serving their nation. A further 155,000 were wounded. All were volunteers. This was a huge human cost, particularly for a nation with a population at that time of just under 5 million people. Total casualties worldwide are believed to number around 20 million people. Such statistics, and the suffering they represent, are almost incomprehensible.
It is the many small memorials that scatter the Australian countryside that perhaps provide some insight into the impact of this tragedy on the social fabric of the nation. The roll of honour on the memorial at Springdale, near Temora, lists the names of ten local men killed during the conflict, including the three Harvey brothers and Private H. Towers who died of wounds on the last day of the war. Each was a life cut short too soon and each represented a deep loss to their community. For many who did return home the trauma of their experiences continued to reverberate long after the guns officially fell silent.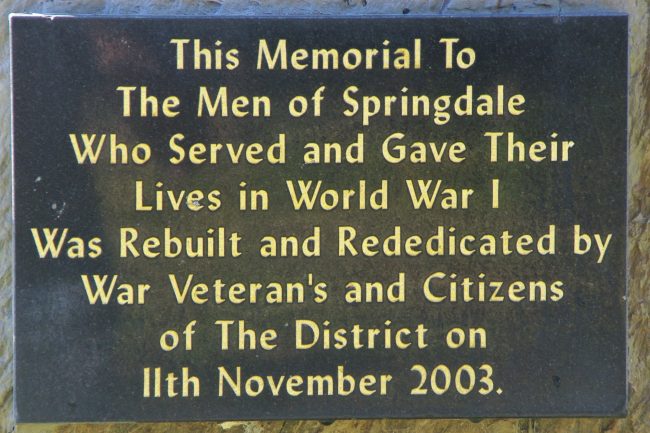 The Armistice which marked the conclusion of the Great War took effect at 11 am on 11 November 1918. Since this time it has become tradition to pause at this time each year to prayerfully reflect on the nature of these sacrifices, and the sacrifices made by the thousands of Australians who have fallen in subsequent conflicts in many different parts of the world. It is sometimes hard to fathom the meaning of such great loss, but perhaps it is a little easier when we reflect that Christianity is based on the power of one man's sacrifice for the benefit of many. Please also keep in your thoughts and prayers the hundreds of Australian Defence Force personnel who are currently serving on operations overseas in difficult and dangerous circumstances, in places ranging from Afghanistan to South Sudan.
Lest we forget.
After many years of service in the Military, LTCOL Gavin Keating is currently training to become a Catholic Deacon and Chaplain in the Australian Army. He will be working in the Archdiocese of Canberra and Goulburn in 2021