Seminarian speaks about his path of discernment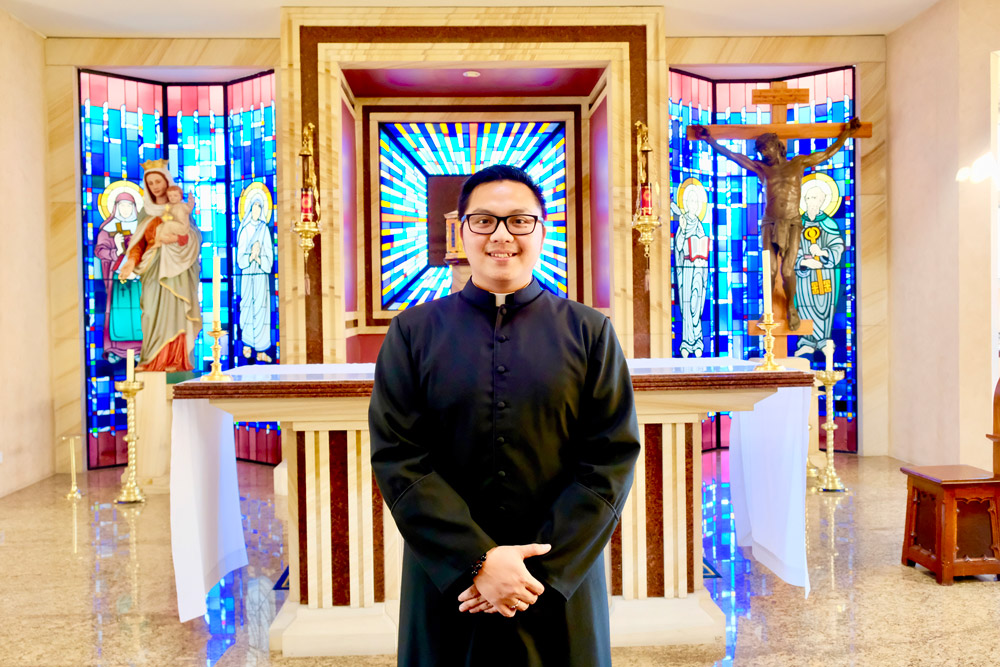 This week, the Catholic Voice will be running a series of articles related to Vocations Week. The following article was written by seminarian Mark Ha.
---
My name is Mark Ha. I am one of four seminarians for the Archdiocese of Canberra Goulburn.
I was born and raised in Vietnam, the youngest of three children. I came to Australia in 2013 to finish my studies in a Bachelor of Commerce at University of Canberra.
I was considering becoming an accountant but I started to wonder whether there was something else that would bring me deeper meaning in my life.
During that time, I joined the vocational group called: "Men Overboard". Every first Friday of the month a group of young men gathered together to pray Evening Prayer and share dinner at the Archbishop's House.
At one of those dinners, I was particularly attracted by a very inspiring story of God's calling given by a seminarian. The story made me think about this vocation which God was calling me towards.
I started to spend more time to seek God's voice in my prayers. There were a number of times that I felt the Holy Spirit was guiding me into a vocation to the priesthood.
At the time that I joined in the Good Shepherd Seminary, I had very little knowledge about this new environment and the formation program of the seminary.
I was worried about so many obstacles that I might not be able to overcome. After two and a half years, I could humbly say that it has been a valuable time for me to be transformed in four areas: humanly, spiritually, intellectually and pastorally.
The human and spiritual formation of the seminary not only helps me to gain more knowledge about God but also helps me to better understand my human nature.
I have learned to be myself which includes developing new appreciation about my life through the programs run in the seminary. These have helped me to understand more about myself and who I am called to become.
There are many spiritual activities which include an annual retreat, Mass, praying the Divine Office, personal prayer times, and adoration which nurture my faith as a Catholic and also as a seminarian considering a call to priesthood. I have more time to pray for my family, my friends and the Church.
Intellectually, I am enjoying the courses at the Catholic Institution of Sydney. I have a chance to study with lay people and seminarians from other seminaries.
This educational community helps me to engage with a broader vision of how my studies enhance my understanding of scripture, theology and philosophy. They assist me to gain a better appreciation of how my knowledge can enhance my understanding of how God can be expressed in our modern world
Moreover, the seminary also organises pastoral work which helps me to gain more experience by working with many different types of people and that is very helpful for my future ministry.
The formation of seminary creates a balanced schedule between academic study, prayer times, pastoral work and rest.
I found the brothers in seminary are almost like extended members of my family. We have the same objective which is to follow Christ, so we all support each other in many tasks.
The community life teaches me to live harmoniously with others by accepting each other's personality. As a result, I am feeling more confident to discern how I am called into the vocation to the priesthood.
I think every vocation has their own graces as well as challenges. But you need to take it seriously to think about: "what does God want me to do?".
It is a free choice and the signal to realise it is whether that vocation brings you to sense the inner-peace of God. I pray that everyone can have a moment to hear what God is calling you to live in this life.
---
If you feel the Lord calling you to explore the possibility of the priesthood or consecrated life, or if you would like more information on the Archdiocese of Canberra and Goulburn's discernment initiatives, please contact our Archdiocesan Vocations Director Fr Paul Nulley: paul.nulley@cg.org.au, or the Assistant Director Fr Trenton van Reesch: or trenton.vanreesch@cg.org.au.