Snatching self-care late at night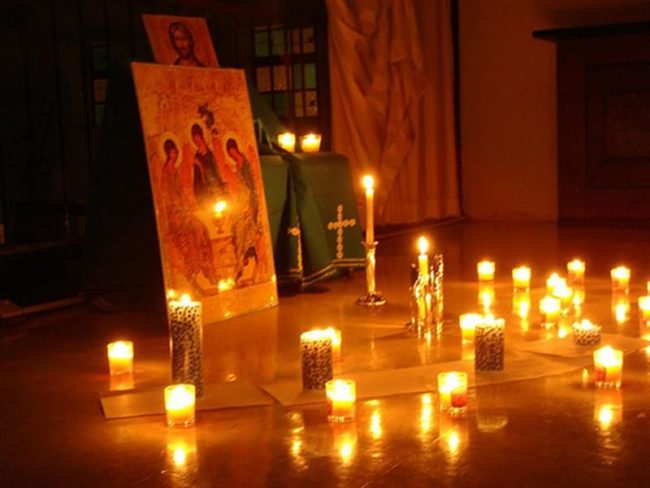 Like most parents juggling work with home schooling, Caroline Weller has found little time for self-care except late at night.
Missing Mass and her Taize prayer meeting, Caroline has created a resource "A Prayer of Connection and Hope" for people to use.
With the routine of her life changed, Caroline said she needed to discover more peace.
"Work has been understanding but the demands have left me worn out," she said.
"I've found I have little time for self-care except late at night."
Aware that people were missing Taize music and prayers, Caroline used YouTube music recordings for her prayer resource.
There have been Canberra services for more than 20 years using resources provided by the Taize Community in France.
"I found the silence a bit daunting at first but I've learned to be gentle with myself and now find peace in the stillness," she said.
Members of the Canberra Taize prayer group share some thoughts:
Annemarie Nicol: Taizé is a village in France that is home to a community of monks. In Australia, Taize is better known for its unique style of prayer, which is gentle and contemplative. I help to organize the Canberra Taize group monthly prayer and love sharing this beautiful way of being with God.
I went to a gathering of young people in the 1990s in Sydney organized by the Taizé Community. It was the first time I had experienced the prayer and community that is so typical of Taizé and I felt immediately at home.
A few years later I went travelling through Europe and planned to stay one week in Taize. In summer the tiny village of Taize hosts 6000 young people at a time. During my first prayer in the Church of Reconciliation I experienced an overwhelming feeling of joy. The community allowed me to stay longer and life was a beautiful rhythm of prayer and work.
Geoff Driscoll: I was invited to the Taize service in Canberra some years ago and it was like no other service I had been to before. I truly feel the Spirit leads us. The service is very genuine. The quiet, still peace and gentleness of the service keeps me coming back and there is a real spirit of community.
For services using Taize music and prayers go to https://www.taize.fr/en_article3489.html
For information about the Canberra service or at Yass contact Caroline on c.weller@internode.on.net