St Christopher's Cathedral Repairs Underway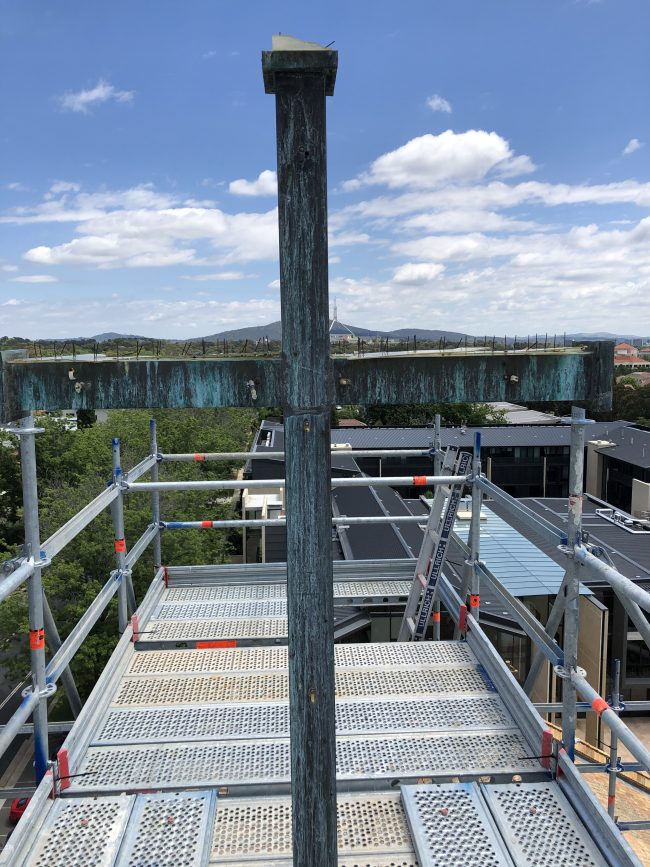 A recent hailstorm was the catalyst for long-planned repairs to begin to the roof of St Christopher's Cathedral in Manuka.
"When the hailstorm came it damaged mostly the roof in the chapel and it was just a cascading waterfall on either side," Cathedral Administrator Fr Trenton Van Reesch said.
"There was a lot of leaking particularly on the flat roof of the chapel and on the sacristy side, and also to the tower."
Repairs to the Cathedral roof had been planned for some time, and the hailstorm sped up the process, he said.
St Christopher's parish church was opened in 1939, and the extended and enhanced church was consecrated as a cathedral in 1973.
The improvements included the bell-tower, a gift of the late Mrs. Elizabeth Morrison of Tralee, Queanbeyan.
The two bells were a gift from the Morrison family in tribute to their parents, and in accordance with tradition are inscribed with their names John and Mary.
"The copper on the bell tower has been there nearly 50 years, so they are replacing it as it started to erode and was a bit damaged at the base of the roof, and they are making it a bit more water tight," Fr Trenton said.
Work is expected to finish in time for Christmas.