St Clare's College – Outstanding Academic Results
The Class of 2019 have embraced the College's motto of "Seek Wisdom" which is very evident in this year's Australian Tertiary Admissions Rank (ATAR) results. Eighty-four percent (84%) of students were awarded an ATAR.
Eighty-three (83) students completed a T package which enabled them to receive an ATAR. Of these, 6 students (7%) achieved a ranking of 95 or above (with the highest ATAR being 99.85), 10 students (12%) achieved a ranking of 90 or higher, and 27 students (32%) achieved a ranking of 80 or above.
Mr Brad Cooney stated that "the results achieved by the 2019 cohort demonstrate their drive and commitment to achieving the best possible result. The students' dedication combined with the excellent teaching staff at the College has led to outstanding results."
The College recently presented academic, external and major awards at the Year 12 final Mass and Graduation assembly. From the graduating cohort, many students have already secured employment from successful attainment of VET qualifications, have been granted scholarships or early entry to University.
Further congratulations go to the following students who were recognised at the annual Board of Senior Secondary Studies Recognition of Excellence ceremony on Tuesday 17 December:
Laura van der Linden – Academic and Excellence Award
Cristina Munoz – Community Services Award
Teagan Arnold – Excellence in Vocational Studies
Shania Morgan – Aboriginal and Torres Strait Islander Award
Congratulations to all students on their excellent results.
---
St Francis Xavier College Year 12 Formal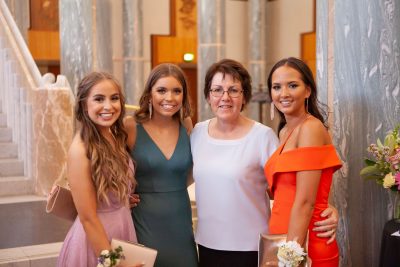 Over 400 students, families and staff attended the St Francis Xavier College Year 12 Formal on Saturday 7 December 2019 at Parliament House.
The Year 12 Formal is a special event for the College, as parents and carers are also invited to attend the evening.
"It was a wonderful night of celebration for students, families and staff," said Principal, Paul Carroll.
"Having parents attend makes the event a fabulous way to farewell Year 12 and some of our families."
"The staff and parents couldn't be prouder of the Class of 2019. It has been wonderful few weeks as we celebrated and reflected on the students' time with us."
"We wish them all the best as they continue their journey," said Mr Carroll