St Edmund's students experience the Divine through art
"The artist is a witness of the invisible and works of art are the clearest proof that the incarnation is possible" Pope Francis, 2017
The arts have been used to portray religious and spiritual teaching for thousands of years. Music, painting, story and sculpture are only some of the forms explored this semester in year 11 Tertiary 'Religion, Worship and the Arts.'
Currently the boys are working on a creative task where they are asked to transform one form of art into another form to show how themes in Christian art have transcended time. We have explored early religious expressions and experiences as well as arabesque forms of art in both a physical and spatial sense.
Architecture plays a key role in forming a place where the religious gather and express their faith. In order to experience this, one class ventured into the chapel to learn of the plethora of symbols present. From the stained glass window of a lamb to the menorah- all carry key stories and meaning and appropriately encapsulate the literal and spiritual foundation of our school.
We have explored also in the Book of Kells the intricate detail and interlace patterns which present not just a text but an experience. We attempted calligraphy to try to experience just a taste of the challenge and accuracy of such a form. It was in the attempts, the draft and the final product that our boys were able to appreciate just how talented the earliest monasteries were.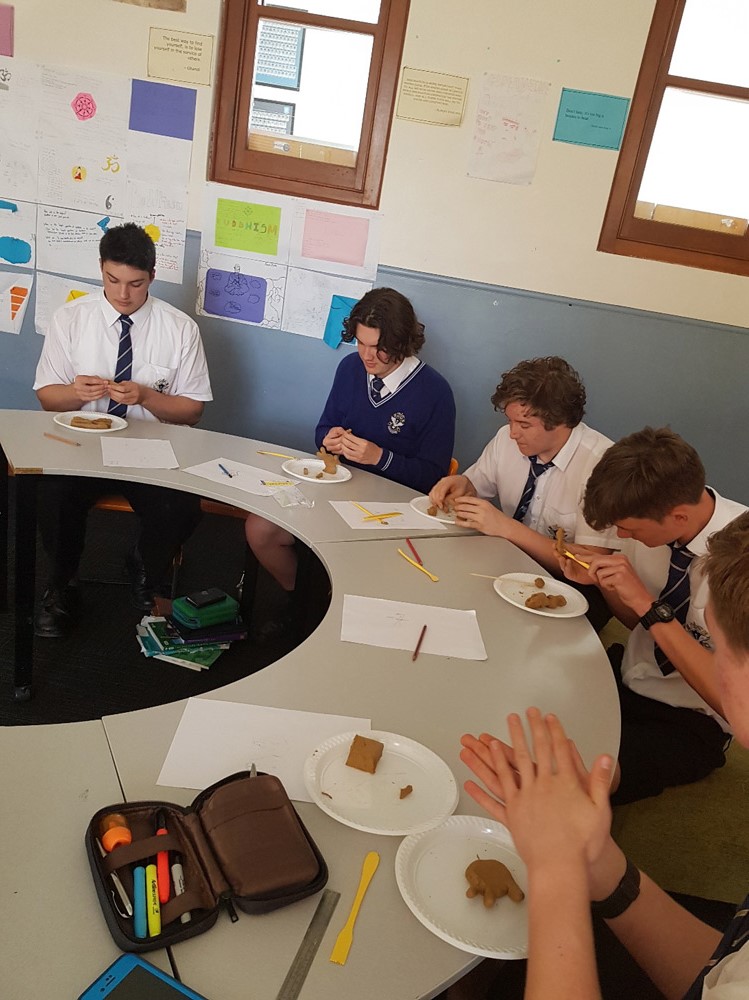 Exploring form
In addition to exploring space and text, we have explored form. This week we learned of the incredible and delicate depiction of Mary cradling Jesus in her arms in Michelangelo's La Pieta and then examined contemporary bronze sculptor Timothy Schmalz and his moving creation of 'Homeless Jesus.'
Both pieces seek to capture movement and life. Schmalz's depiction of Jesus homeless teaches us now and in many years to come that Christ is experienced in every single person, especially in those who are sick, homeless, in prison, thirsty and are a stranger. This piece is truly an example of how Christian themes transcend time.
We went a little further to take our learning into our own hands and create sculpture. Our boys were challenged to create a response to the famous 'Footprints' story which teaches us of faith in times of trouble. Following a sketch and a vision, each boy was given clay to create what they saw.
In taking our understandings outside of a classroom context, a greater appreciation for the arts and the ability to transform something into an experience of the divine can be found.
Pope Francis speaks of the function of art in bringing to life the incarnation, an experience of God in the flesh, "The artist is a witness of the invisible and works of art are the clearest proof that the incarnation is possible." Our year 11 Tertiary students are still on their journey of unlocking the experiences of the divine in their creative own work as well as in learning of the works of others.
Story by Michael Monagle,
Director of Mission and Identity, St Edmund's College