Stock up on Tupperware and move people off the streets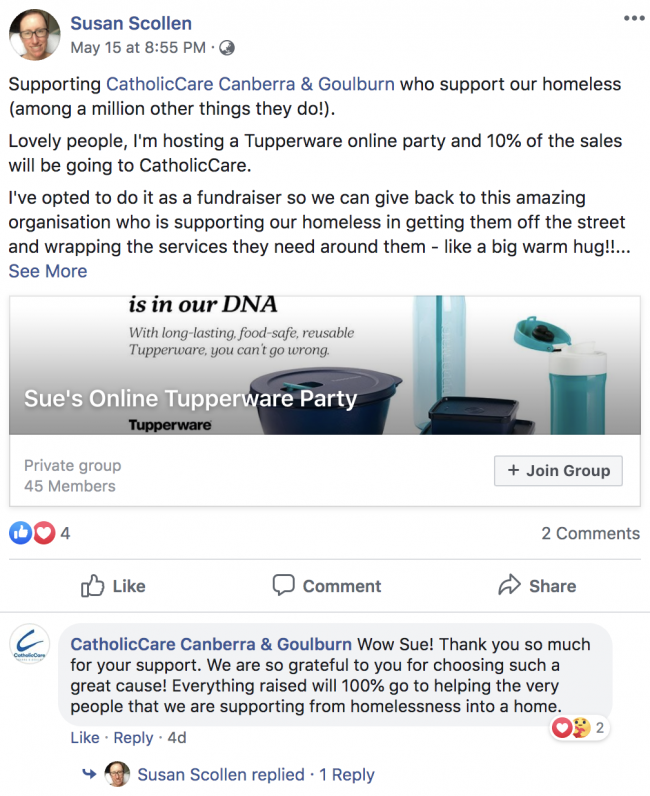 IT'S time to stock up on Tupperware and support CatholicCare's homelessness projects at the same time.
Mum-of-four Susan Deal is organizing an online fundraising Tupperware party tomorrow (Thursday) evening with proceeds going to CatholicCare's Axial Housing project.
The two-year pilot program is supporting 32 homeless men and women to move off the streets and into permanent homes with CatholicCare providing much-needed support services to help people rebuild their lives.
"A lot of people are online now so a friend of mine who is a young Mum will host an online Tupperware party on Facebook," Susan said.
"People can buy their Tupperware containers and 10 per cent of the total sales will go to CatholicCare for their Axial Housing project."
A health coach who works from home, Susan has supported other CatholicCare projects and said it's all about "giving back".
"This 'Housing First' model has been trialled in Europe and is working here in Brisbane and Adelaide," Susan said.
"You move a person into a home, which gives them the identity they need, and you are effectively changing their lives.
"Then CatholicCare provides all those wrap-around services which are so important because people cannot navigate the services themselves."
CatholicCare CEO Anne Kirwan said the social services agency was grateful for the support.
"We have never had anyone do something like this for us before," Anne said.
"And who doesn't love Tupperware! We hope there will be people who will support this cause because it is such an important one. It would be great for it to be successful."
The online Tupperware Party will be tomorrow (Thursday) night at 8pm. To join, find Susan Scollen (her maiden name) on Facebook and send her a PM (private message). Susan will send you details to access the party. Or she can send you a link to buy Tupperware if you do not want to attend the party.