Teachers and leaders gather for Symposium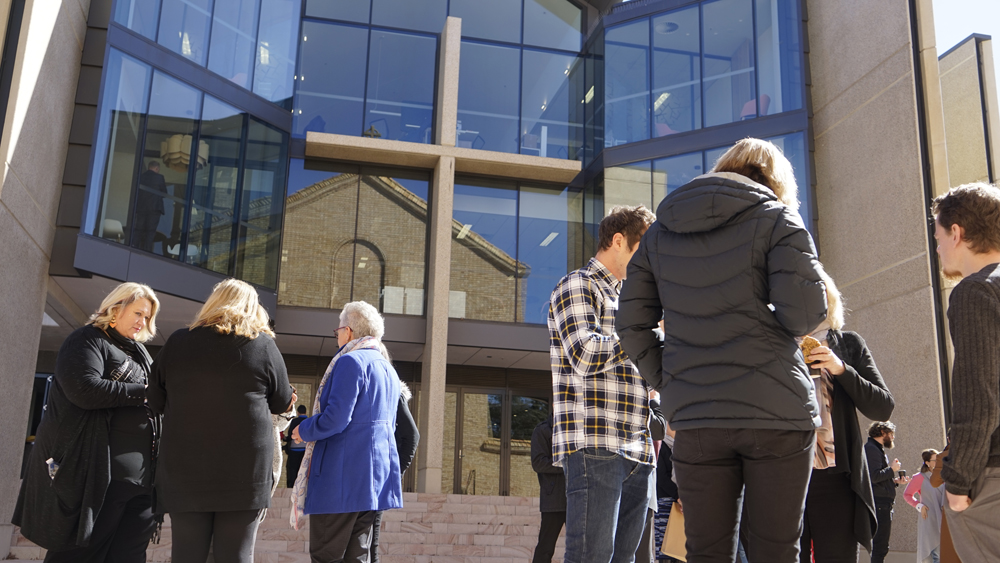 One hundred and forty teachers and church leaders from across Australia gathered in Canberra on Friday August 10 to discuss new initiatives around teacher and Church leaders formation.
The day, which included the presentation of the vision for the Catholic Leaders Formation Network (CLFN), started with all participants entering into prayer which was used from the CLFN 'Formed in Prayer' weekly resource.
The theme for session one was 'Opening New Horizons in the Year of Youth' and focused on sharing the youth evangelisation vision in the Archdiocese of Canberra & Goulburn. Teachers and CSYMA Youth Ministers spoke about events such as the student SHINE gathering and LEAD conference, which has seen 800 students gather together this year.
Chris Tran, a year 12 Marist student shared his experience of the 2018 Oceania Youth Ministers Equipping School including encountering the Holy Spirit. Huw Warmenhoven spoke about his journey into the mission and life of the church and Hannah McMahon shared her experience of the four phase model through school and now as a youth minister.
This was followed by a dynamic and inspiring presentation from Archbishop Christopher Prowse speaking about journeying with young people, being Jesus-centred leaders, kerygmatic people and open to the work of the Holy Spirit. All evangelisation is God's work.
Session two was themed 'Faith Formation of Teachers and Leaders,' on which Professor Br. David Hall FMS (Dean of the ACU La Salle Academy) gave a dynamic, engaging and humorous presentation. Participants were excited about Br David's presentation on formation of educators and leaders today.
The day included seminar sessions on a new CSYMA primary school model of formation called Junior; New Teachers and Leaders Formation Programs and Post School Youth Ministers including pathways from school to church. These seminars gave the participants many new ideas which were explored more in conversation over lunch.
A listening session was also part of the Symposium, reflecting on what the Holy Spirit is asking of us at this time – points on the plenary wall (pictured below).
Fr Tony Percy ended the day presenting on the 'change of era' theme, and Peter Woods outlined the vision of the Catholic Leaders Formation Network.
Here is what some participants said:
'It reinforced what I knew but also sparked new ideas for me and youth ministry in my school…Br David Hall was awesome.'
'The Symposium day was inspiring and dynamic to hear the youth'
'The Symposium gave a vision that strengthened my view of the importance of encountering God in my life and how through this encounter, God can hold an important place in the life of others…all of the speakers were inspiring'
'The opportunity to gather with leaders across education and Church into a collaborative community was a key feature and holds great promise for the formation of leaders in our Church today'
Photos: Rossen de Ramos.