Tender moment between father and terminally ill daughter
Dame Deborah James, also known as Bowelbabe, is inspiring others as she receives palliative care at home.
Since being diagnosed with bowel cancer, Dame Deborah James has campaigned tirelessly to raise the awareness for the disease that will cut her life short. In fact, when she recently announced on social media that she was leaving the hospital to return home to receive end-of-life care, her heartfelt message led to a staggering amount of donations to her cause.
Despite her long battle with the disease, and the realization "that my rollercoaster of a ride is coming to an end very soon," under her campaign name of Bowelbabe the 40-year-old former teacher raised over $8 million towards helping others beat the disease.
Her efforts in fundraising and raising awareness through her popular podcast were rewarded by Queen Elizabeth II, who decided to make the mom of two a "dame" (kind of like the female version of a "knight"). This honor was something deeply appreciated by the family, especially when Prince William turned up at her home to give her the award in person and spend time with her family.
And even in the time she has left, Dame Deborah is still trying to raise awareness by sharing the harsh realities of the disease; one of which is being unable to find the strength to brush her hair.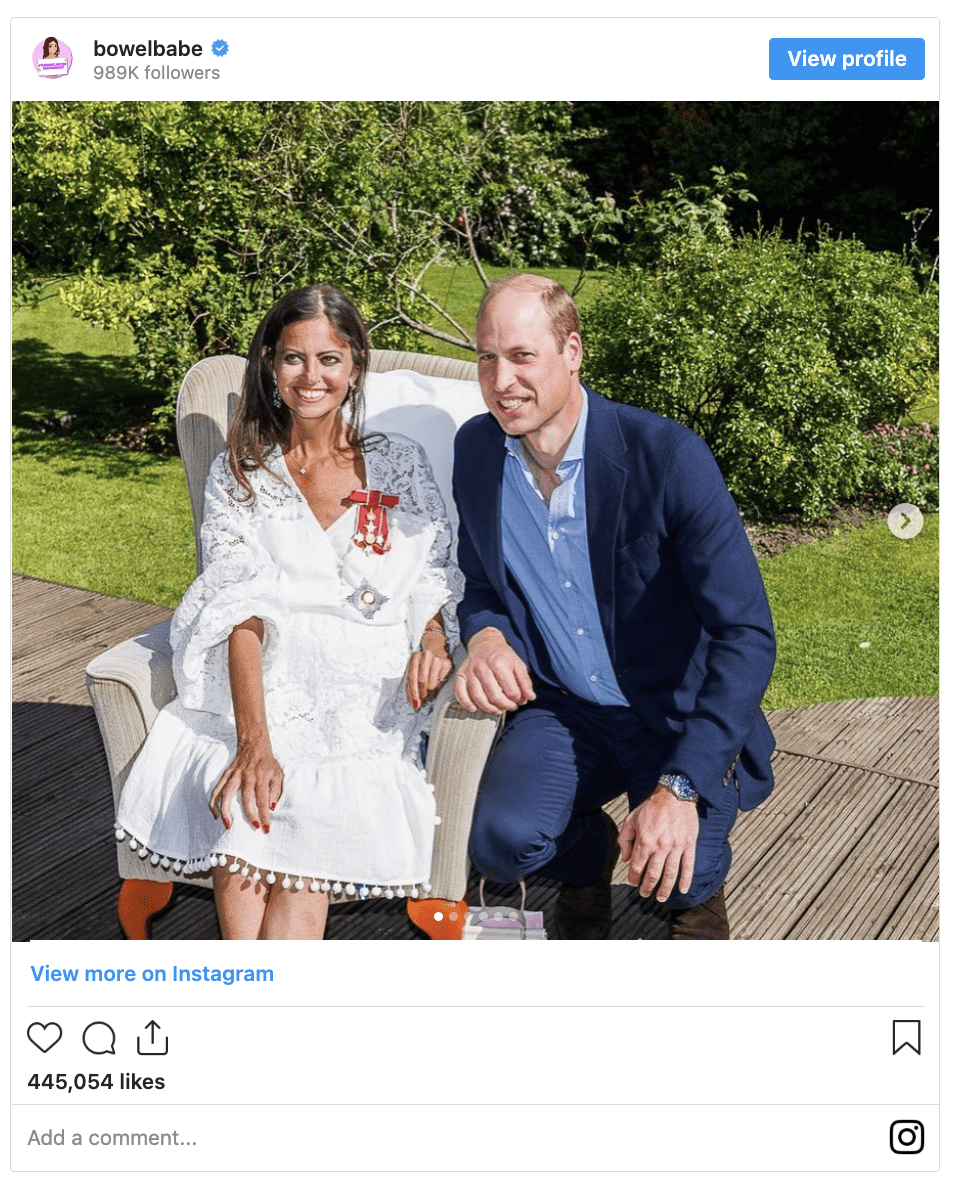 On Father's Day she posted a moving photo in which her father, Alastair, is carefully brushing her hair. The intimate moment between the two is very moving to see, and it reflects the difficulty for a parent having to witness their child's strength, and ultimately, life, fade away.
Dame Deborah also shared how her father has always been there for her:
"My dad is my unsung hero, more so than ever. He's quietly there behind the scenes, making sure I am OK. He's always been a very calming, loving presence in my life — he's very good at handling me and all my craziness. His patience knows no bounds."
She added: "It didn't matter how naughty I'd been, he knew how to handle me. When I ruined the bathroom when I dyed my hair, he took it all in his stride … My whole life, he has just been standing behind me, quietly holding me up."
We pray that Dame Deborah's family continues to find the strength to help ease her suffering as she prepares for her last days on earth, and we pray that she will eventually find eternal rest free from all the pain she has endured for years.
First published in www.aleteia.org