The chance to 'influence a generation'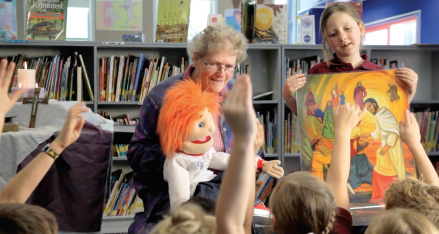 ABOUT half of all Catholic children in Australia attend public schools.
This highlights the importance of the work done by Catholic catechists who go into public schools to provide Special Religious Education (SRE) to children whose parents have requested they receive religious formation.
For many Catholic children, this can often be their only contact with the religion they were baptised into, since their families do not belong to a parish or attend Sunday Mass regularly.
In his latest pastoral letter "On Evangelisation and the Plenary Council of Australia", Archbishop Christopher Prowse said the "Kingdom of God awaits to bud forth" on the "new horizons of evangelisation today."
Given that so many Catholic children are disconnected from a faith community, catechists are performing a vital evangelising role in bringing forth the Kingdom.
Pastoral and Mission Formation Coordinator for the Archdiocese of Canberra and Goulburn Christian Nobleza said the voluntary work done by catechists is "significantly important".
"When it comes to sacramental initiation and so forth, the 'other half ' are in public schools," Mr Nobleza said.
The Archdiocese has 60 catechists teaching in 37 public schools in NSW, mostly primary schools. It hopes to make inroads into ACT public schools soon by working with Christian Education In Schools, a project of the ACT Council of Churches, an ecumenical body.
State Government legislation in NSW and the ACT allows SRE in public schools for about 30 minutes during school hours. Parents need to opt-in their children at the point of enrolment. While all States except VIC and SA allow some time for religion classes in government schools, NSW has the most robust legislation protecting the right of children in state schools to receive religious education.
Mr Nobleza said the Archdiocese's SRE teachers are formed in accord with NSW Government requirements that they be trained in Child Protection Safeguarding and classroom management and that they only teach from an approved
Those who volunteer to teach SRE are "people who just genuinely have a heart for children," he said, and who want "to pass on faith to them in a really authentic way".
Retired schoolteacher Anne-Maree Sleigh, of Sacred Heart Parish Temora, has been teaching SRE for four years and was motivated by her desire for children to know God's love for them.
"I've had a lot of benefit from being part of the Church and I just really like having that sense that no matter what God loves me," she said.
"If we can teach them they curriculum are loved no matter what, then that could literally save their lives."
Lyn Matthews, a parishioner of St Peter's Pambula, has been a catechist for 14 years and teaches SRE at a local state primary school. She said for many children the classes are their only opportunity to ask questions about God.
Working as a catechist has brought her immense fulfilment, she said.
"If you enjoy working with children and you want to spread the word, God's word, I think the best way to spread it is to talk to children. It's extremely rewarding."
Mr Nobleza said the Archdiocese "will always need more catechists" to help spread the Catholic faith.
"More than anything else I think it's an opportunity to influence a generation in Australia in helping them to explore their faith.
"The ministry of a catechist doesn't necessarily stop with the child but extends through the child to their family."
If you are interested in becoming a catechist, contact your local parish or the Archdiocese of Canberra and Goulburn at catechists@cg.org.au