Vinnies release 2020 ACT election statement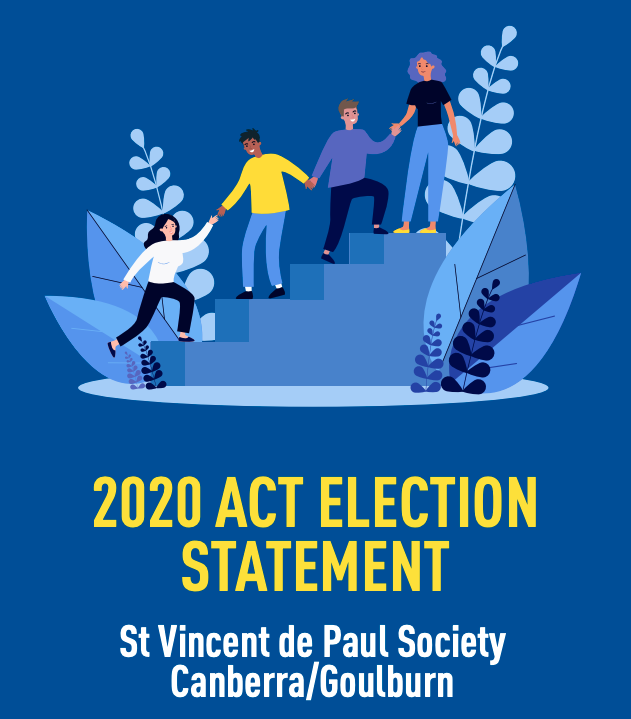 In the lead up to the ACT Election, the St Vincent de Paul Society Canberra/Goulburn has released their '2020 Vinnies Election Statement' outlining their priorities for the next ACT Government.
With over 1500 people experiencing homelessness in the ACT, and community housing at breaking point, Vinnies is committed to advocating for systemic change to combat poverty and homelessness.
To tackle the social housing crisis, Vinnies calls on all parties in this election to commit to building an additional 3000 social housing properties over the next 5 years.
Additionally, to make affordable and accessible housing a reality for all, Vinnies strongly supports the call by ACTCOSS that the ACT mandate that 15% of the Land Release Program should be set aside for the supply of public, community and affordable housing, whilst also ensuring all properties built meet the universal design standards to allow for accessibility by all.
To support these requirements, Vinnies calls for a right to adequate housing to be recognised as a basic human right in the ACT Human Right Act. This would allow for the address of homelessness from a Housing First, human rights approach which would allow for greater social connectedness and increased wellbeing.
COVID-19 forced governments to find housing to allow for self-isolation, proving solutions to homelessness are possible. Therefore, Vinnies calls for all parties in this election to commit to long term and expanded funding for all homelessness support programs to ensure that no one is forced back onto the streets once the worst of COVID-19 is over.
Secondly, Vinnies believes that the incoming government should set a precedent for respect for Indigenous peoples and culture.
Children and young people thrive when they have the best start to life. Therefore, Vinnies calls for urgent reform of the child protection system in line with the 'Our Booris, Our Way Inquiry', within the first year of government.
Additionally, as Aboriginal and Torres Strait islanders are 16 times more likely to be imprisoned in the ACT, Vinnies calls for urgent reforms to the justice and prison systems to reduce the appalling rates of Aboriginal and Torres Strait Islander imprisonment and recidivism.
Thirdly, Vinnies has a long history of helping refugees and people seeking asylum, and the ACT is a designated Refugee Welcome Zone where those seeking asylum and refugees can access a range of services and concessions. Vinnies therefore calls on all parties to commit to maintaining the ACT's status as a Refugee Welcome Zone.
For the full Election Statement visit: https://www.vinnies.org.au/2020ACTElectionStatement
Media contact: Kathryn Maiden kathryn.maiden@vinnies.org.au or 0417 836 494