Week Seven: Archbishop's Pastoral Parish visits
ST ANTHONY OF PADUA, WANNIASSA
Best Sausage Rolls in the Southern Hemisphere!
COVID has come and not gone.
Much has changed in our way of life, especially our work patterns, our social rhythms, our travels, etc. Still the long-term effects and consequences are still too early to call.
What has not changed is our desire to be with each other.
The Archbishop visited our parish on Saturday. A small numbers of parishioners were present at the Mass and subsequent morning tea. We enjoyed the best sausage rolls in the southern hemisphere.
Observing physical distancing – naturally.
We were looking forward to having the Archbishop join us for a working bee. But the rain prevented our chief pastor from getting his hands dirty.
Our gardens were in need of renewal. Away we went. COVID working bees came, one after another.
We cleared out the old and planted the new.
Observing physical distancing – naturally.
And it rained and rained and rained.
Remember last summer?
Drought, heat, fires, smoke.
The Spring of 2020 is resplendently different.
Maybe, just maybe, that rain is a symbol of grace and renewal.
We look forward to the Archbishop's next pastoral.
Come rain, hail or shine, the best sausage rolls in the southern hemisphere will be on offer.
---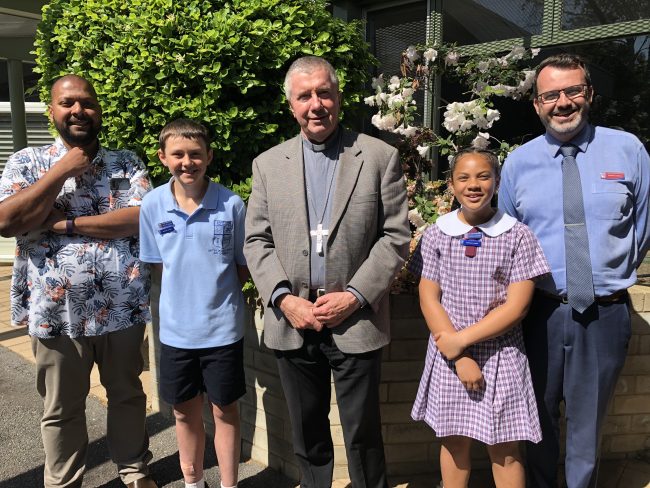 ST JOHN THE APOSTLE PARISH, KIPPAX
By Carl Madsen – Parish Pastoral Council Chair
About 60 people at morning Mass enjoyed Archbishop Christopher's warm and encouraging words in his homily which was a message of hope.
He told us that for our Diocese in these challenging times the current pandemic is not really COVID-19 but loneliness. People's stories and data are showing that many are experiencing isolation and loneliness. "We should not think just of ourselves, but reach out to others around us," he said. The Archbishop said he hoped his visit would help remind us of God's love, and Jesus as the good shepherd who is close to us.
Archbishop Christopher encouraged us to stay around for a chat and a cuppa, saying, "I would like to get to know you and hear your stories."
There were photos and videos taken and everyone enjoyed the opportunity to gather in a way that has been a bit rare this year.