What is Religious Freedom?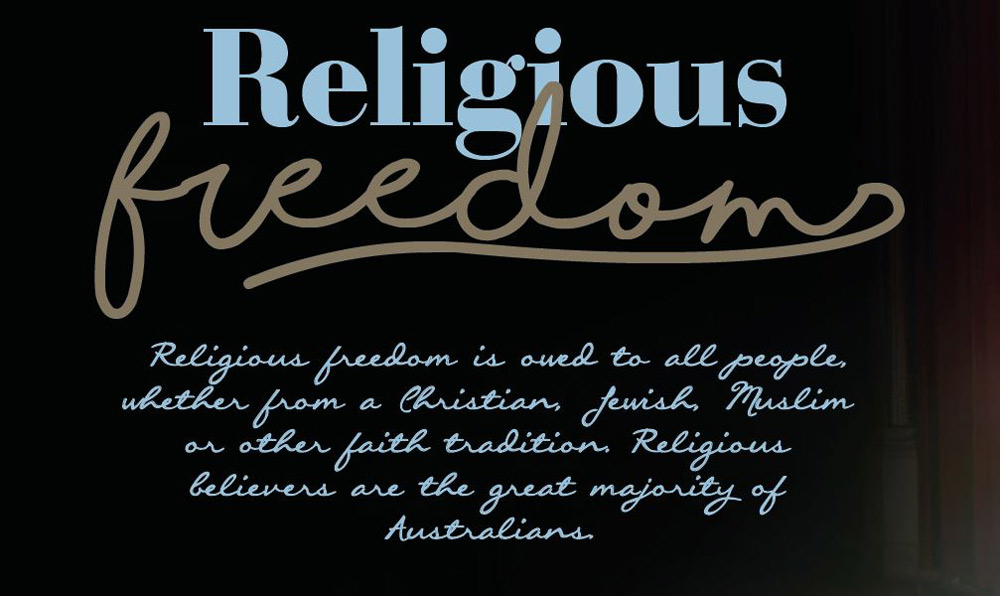 The freedom we have as people of faith to participate in the community and live our faith is called religious freedom.
It is not just freedom to worship, important as that is. The fundamental character of religious belief is public, which is why people of faith build houses of worship and undertake good works.
Article 18(1) of the International Covenant on Civil and Political Rights states "Everyone shall have the right to freedom of thought, conscience and religion. This right shall include freedom to have or to adopt a religion or belief of his choice, and freedom, either individually or in community with others and in public or private, to manifest his religion or belief in wor­ship, observance, practice and teaching."
Religious freedom is owed to all people, whether from a Christian, Jewish, Muslim or other faith tradition. Religious believers are the great majority of Australians.
Why is it being talked about now?
Then Prime Minister, the Hon Malcolm Turnbull MP, announced the Religious Freedom Review in November 2017, to reassure those people concerned about the impact on religious freedom of redefining marriage. An Expert Panel chaired by Philip Ruddock delivered its report to the Prime Minister on Friday, 18 May.
Leaked recommendations from the Ruddock Report created a storm of controversy in October. Claims were made that religious schools would use anti-discrimination legislation to turn away gay students and teachers. Catholic bishops responded that those who seek employment or enrollment in a Catholic school will be asked if they understand and accept the values of that school and are expected to uphold those values. Catholic schools are concerned about behaviour, not identity.
The Morrison Government is expected to publish the report of the Religious Freedom Review and its plans for religious freedom before the end of the year.
ACT Chief Minister Andrew Barr announced on 24 October his government would remove legal protections that allow religious schools to hire staff or select students who support the ethos of the school. The Catholic Education Office had not been consulted before the announcement.
What did the Catholic Church say to the Religious Freedom Review?
The Australian Catholic Bishops Conference submission highlighted three key opportunities to reform Australia's laws to better support freedom of religion and belief:
A positive expression of religious freedom in Australian law, to address the concern that religious freedom is only ever expressed by way of exception or exemption, rather than as a right. This would operate in addition to the existing express exceptions and exemptions in anti-discrimination laws, which have the benefit of established acceptance and meaning
To clarify religious freedom protection offered to religious bodies so they cannot be compelled to allow Church property to be used for purposes which do not accord with their beliefs, and
Amending existing legislation that restricts freedom of conscience, especially for those engaged in medical practice.
Why is religious freedom important to Catholics?
The Catholic Church wants to continue serving people who are in poverty, seeking education or in poor health.
We want to continue to employ people who wish to join us in these worthy goals according to our beliefs and values.
We want to continue to partner with governments without any threat that funding or contracts will be denied because of our beliefs, or subject to conditions that contravene those beliefs.
Parents, of all faiths and none, choose Catholic schools for their children because they expect that this education will be provided by school staff in a manner consistent with the Gospel of Jesus Christ and the teachings of the Church: this goes to the very heart of the identity and mission of Catholic schools
Staff in Catholic schools have a professional obligation to be supportive of the teachings of the Catholic Church, to act as role models to students and to do nothing publicly that would undermine the transmission of those teachings.
Staff in a school could rea­sonably be expected to support the teachings of the particular religion, to not undermine that teaching and to act as role mod­els to their students. Catholic teaching makes it clear that a gay person should be assessed for employment on the same basis as anyone else.