Living in the comfort of the Holy Spirit – One day retreat with Fr Roni on 25th November at St Benedict's Catholic Church
November 25 @ 9:30 AM

-

4:00 PM

Free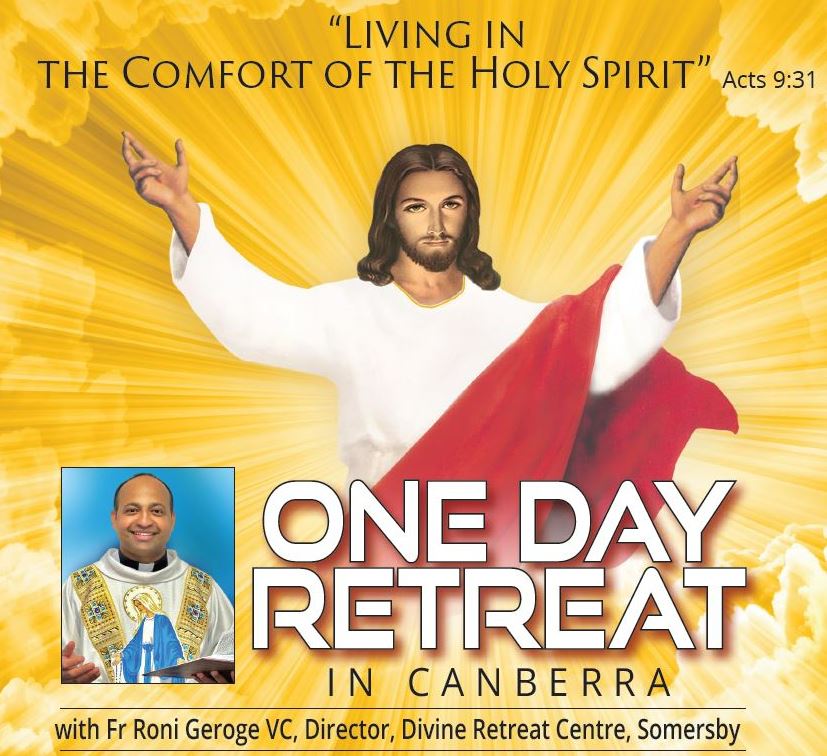 Greetings from Divine Retreat Centre, Somersby!
Jesus promised to send us the Holy Spirit to be our "Comforter" (John 14:16), "Helper" (John 16:7), and "Advocate" (John 14:26). We can access the guidance, comforts and power of the Holy Spirit when we have received Jesus Christ as Lord and Saviour. Those who receive the Holy Spirit, receive constant reassurance that we are God's children, drawing us closer to Jesus day after day by strengthening our inner being. The Holy Spirit gives us power and wisdom to witness to the truth that Jesus is Lord of all situations in our life.
My dear people, no matter what trials and tribulations we are going through, the most powerful source of comfort we have available is the Holy Spirit. I invite you to attend a one-day retreat on November 25, 2023 at St Benedict's Catholic Church to learn how to live in the comfort of the Holy Spirit. The Holy Spirit provides true comfort in all our troubles so that we can comfort others.
Kindly invite friends and family to attend the retreat with you (see retreat eFlier attached). I encourage people who are planning to attend the retreat to register latest by 22 November 2023 by replying to P1.rebello@gmail.com
I look forward to the joy meeting each one of you.
Blessings in Christ,
Fr Roni George VC
Director, Divine Retreat Centre, Somersby