World Youth Day reflections
Married couple Shannon and Chris share their experience of WYD
Shannon: Before leaving Canberra, I had an idea in my mind about WYD being an opportunity to see the Catholic faith in a global setting. Dreams of meeting new people, sharing stories and perspectives on faith, and really connecting with my own faith better because of these experiences.
I hadn't really seen a gathering of people larger than the Canberra crowds of the Multicultural Festival, so I was a little nervous and curious when I heard just how many people would be attending the World Youth Day Festival.
I found the initial formation sessions were a fantastic way to get to know the coordinators and the journey, but I think I really started to connect with our pilgrimage group much more during the journey. I think when you become embedded within your own church communities and do your own thing, sometimes it's easy to forget there's a whole world of people who share your faith, values, beliefs, and passions.
I happily got to know the Canberra Goulburn Catholic community better through my encounters with fellow pilgrims.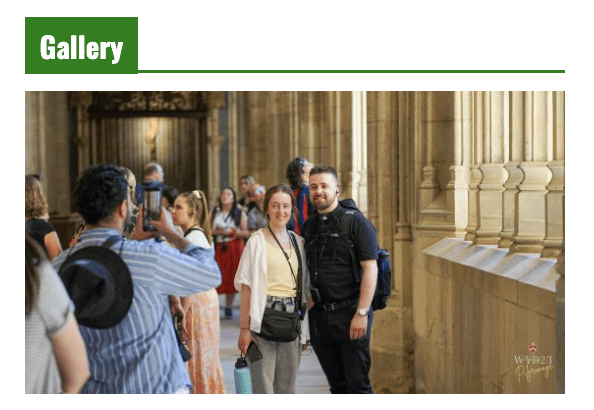 Christopher: This being my second World Youth Day, I set out with the hope of future deepening my own faith and gaining experiences that I could bring back to share with my students at Rosary Primary in Watson and the children I work with at St Thomas More's Parish in Campbell.
So far, we have had several wonderful and very moving experiences. The chance to pray the rosary at Fatima, to be so close to the place where Mary appeared to the three shepherd children. The opportunity to see those sites and hear catechesis here in Lisbon. These have been the sort of experiences that I hope to share when I return to Canberra, and I hope people might find them as moving as I have. It has also been wonderful to share this experience with my wife, Shannon, and to grow in faith and experience together the opportunities that faith brings us.
---
Sharee Thomas; Religious Education Coordinator and
contact Teacher for Aboriginal and Torres Strait Islander Education

WYD is a melting pot of faith, food, culture, youth and an overarching sense of happiness.

The experience of our pilgrims is a wonder to watch. They are fully immersed in all the experiences on offer, from catechesis by Bishops from around the world, to an opening mass with over one mission people to sessions of Christian Meditation.

Most of our pilgrims have never been overseas to Europe before. They have welcomed the challenge of different food, beds, lots of people, different languages and being on the go all day and into the night with a spirit of determination and awe.

The group has gelled so well with everyone looking after each other and sharing their story and faith.

Our journey to get here through Avilla, Segovia, Salamanca and Fatima has given the pilgrims an opportunity to not only learn about key events and figures in our church but join with hundreds and sometimes thousands of others in prayer and reflection on the theme of WYD "And Mary arose and went with haste".

The Holy Spirit works through us all and this is evident in not only the authentic connections being created between the Archbishop, Fr Eden, the Leadership Team and pilgrims but also in the sharing of our learnings of the day or town as well as people's faith development after experiences of the heart.

It is a privilege to walk alongside the pilgrims, like Jesus did to the disciples on the road to Emmaus, discussing their faith, the struggles, the triumph, and the quiet whisper of God that they hear through their interactions with all that is offered at WYD.

I can't wait to see these pilgrims return home 'in haste' and continue to follow the Lord's plan with grace and acceptance.
---
Parishioner Melwyn Monteiro
Passport. Check! Holy Bible. Check! Travel Journal. Check!
We have been travelling for more than a week on our WYD 2023 Pilgrimage. Being at the halfway point of our journey, I think it's the perfect time to sit, reflect and write about my experience so far.
Our Pilgrimage started with our arrival in Madrid, Spain. We jumped on a bus and took a quick drive to Avila. This was followed by visits to Segovia and Salamanca. These locations on our Pilgrimage have been incredible, with a rich and vibrant history that is deeply rooted in our Catholic faith. The cathedrals and chapels that we visited, and were fortunate to celebrate Mass in, were beautiful, with architecture that hailed back to Roman and Gothic styles.
The next stop on our Pilgrimage was Fatima, which to this point, has to be the highlight of my journey so far. It was a humbling experience to visit the sight that Our Lady chose to appear to three young children to spread a message of prayer and peace. Standing in the square, it was easy to gain a sense of appreciation for just how holy Fatima is. I couldn't help but be overwhelmed by groups of people devoting their prayers to the intercession of Our Lady.
Soon after we found ourselves in Lisbon, and it has been an experience like no other. The groups of young people filling the streets in excitement has been amazing to witness. The energy and excitement surrounding our Catholic faith has been monumental, and it is a blessing to see it represented to this capacity at a global scale.
With a little over a week to go for our Pilgrimage, I'm looking forward to seeing what's yet to come and to continue to grow in faith and unity with my fellow pilgrims. Please continue to pray for us as we will for you. Thank you.