On Caring for our Common Home
8 March 2019

-

10 March 2019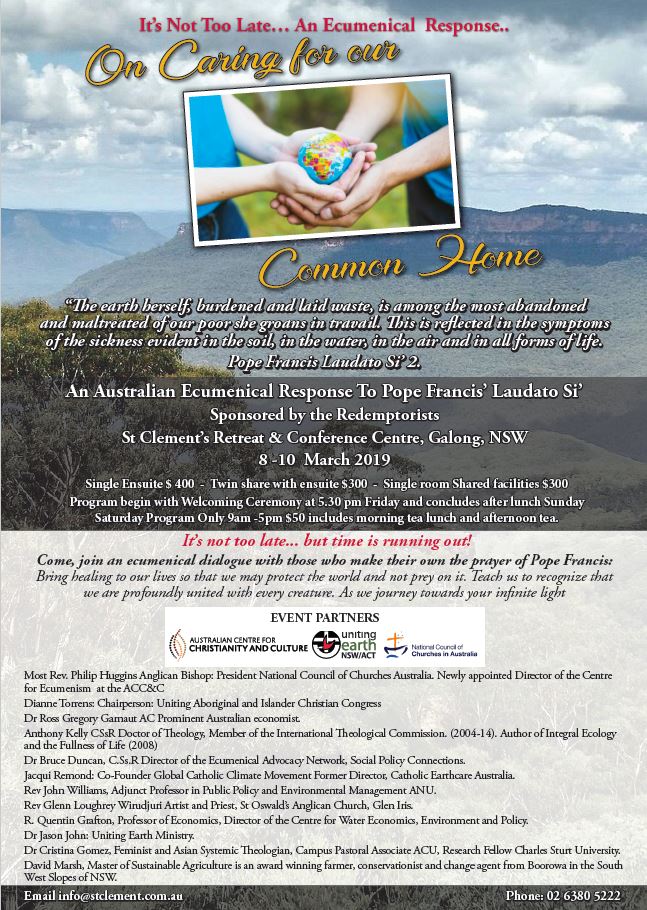 "The earth herself, burdened and laid waste, is among the most abandoned and maltreated of our poor she groans in travail. This is reflected in the symptoms of the sickness evident in the soil, in the water, in the air and in all forms of life."
Pope Francis Laudato Si' 2.
An Australian Ecumenical Response To Pope Francis' Laudato Si' – sponsored by the Redemptorists, St Clement's Retreat & Conference Centre, Galong, NSW 8 -10 March 2019.
Single Ensuite $ 400
Twin share with ensuite $300
Single room Shared facilities $300
Program begins with Welcoming Ceremony at 5.30 pm Friday and concludes after lunch Sunday.
Saturday Program Only 9am -5pm $50 includes morning tea lunch and afternoon tea.
Most Rev. Philip Huggins Anglican Bishop: President National Council of Churches Australia. Newly appointed Director of the Centre
for Ecumenism at the ACC&C
Dianne Torrens: Chairperson: Uniting Aboriginal and Islander Christian Congress
Dr Ross Gregory Garnaut AC Prominent Australian economist.
Anthony Kelly CSsR Doctor of Theology, Member of the International Theological Commission. (2004-14). Author of Integral Ecology
and the Fullness of Life (2008)
Dr Bruce Duncan, C.Ss.R Director of the Ecumenical Advocacy Network, Social Policy Connections.
Jacqui Remond: Co-Founder Global Catholic Climate Movement Former Director, Catholic Earthcare Australia.
Rev John Williams, Adjunct Professor in Public Policy and Environmental Management ANU.
Rev Glenn Loughrey Wirudjuri Artist and Priest, St Oswald's Anglican Church, Glen Iris.
R. Quentin Grafton, Professor of Economics, Director of the Centre for Water Economics, Environment and Policy.
Dr Jason John: Uniting Earth Ministry.
Dr Cristina Gomez, Feminist and Asian Systemic Theologian, Campus Pastoral Associate ACU, Research Fellow Charles Sturt University.
David Marsh, Master of Sustainable Agriculture is an award winning farmer, conservationist and change agent from Boorowa in the South West Slopes of NSW.